I personally tested and wrote about every natural gas pizza oven on the market. This isn't one of those BS "review" websites that re-hash manufacturer specs. I actually used these products and continue to do so on a weekly basis. These are my recommendations. Got questions about pizza ovens? Send a message. I like to talk about them.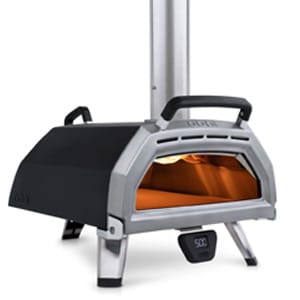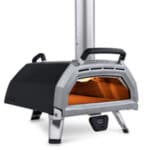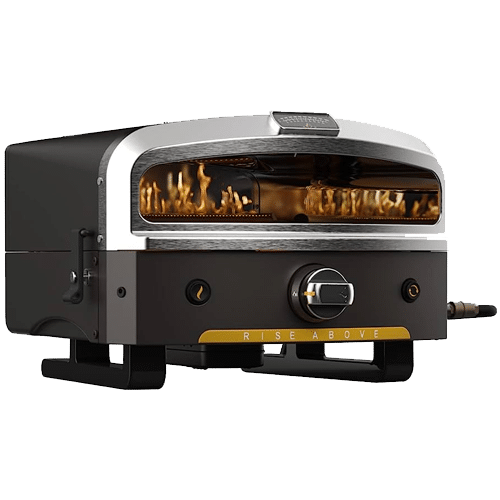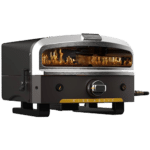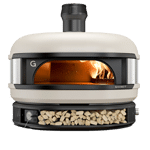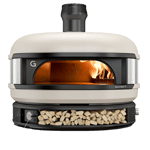 Gas pizza ovens are a popular choice, especially with beginners or people with limited space, because they're easier to use and more convenient than wood-burning pizza ovens. But finding pizza ovens that are natural gas compatible can be difficult research, especially when many consist of conversion kits and separate purchases.
Read on for our complete guide to natural gas pizza ovens. We'll help you with everything you need to know, from the benefits of cooking with gas, to what features to look for in your oven. And if you're ready to shop, we've got reviews of our favorite high-quality gas pizza ovens, and there's one to suit all budgets. If you think you'd rather cook with wood check out our guide to wood fired ovens here, or if you're unsure which fuel type you're even interested in, check out our overall rankings of the best pizza ovens.
The Best Natural Gas Pizza Ovens
Innovative Rotation
Halo brought a potential game changing pizza oven innovation with their Versa 16, featuring a rotating 16" pizza stone. This performs phenomenally well but takes a lot more practice to launch pizzas (especially when cooking larger ones).
Weight – 43.21 lbs
Max pizza size – 16 inches
Max heat – 950° F
Price – $499.00
Preheat time – 15-20 minutes
Pizza cook time – ~3 minutes
Warranty – 5 years with registration
Halo Versa Natural Gas Conversion Kit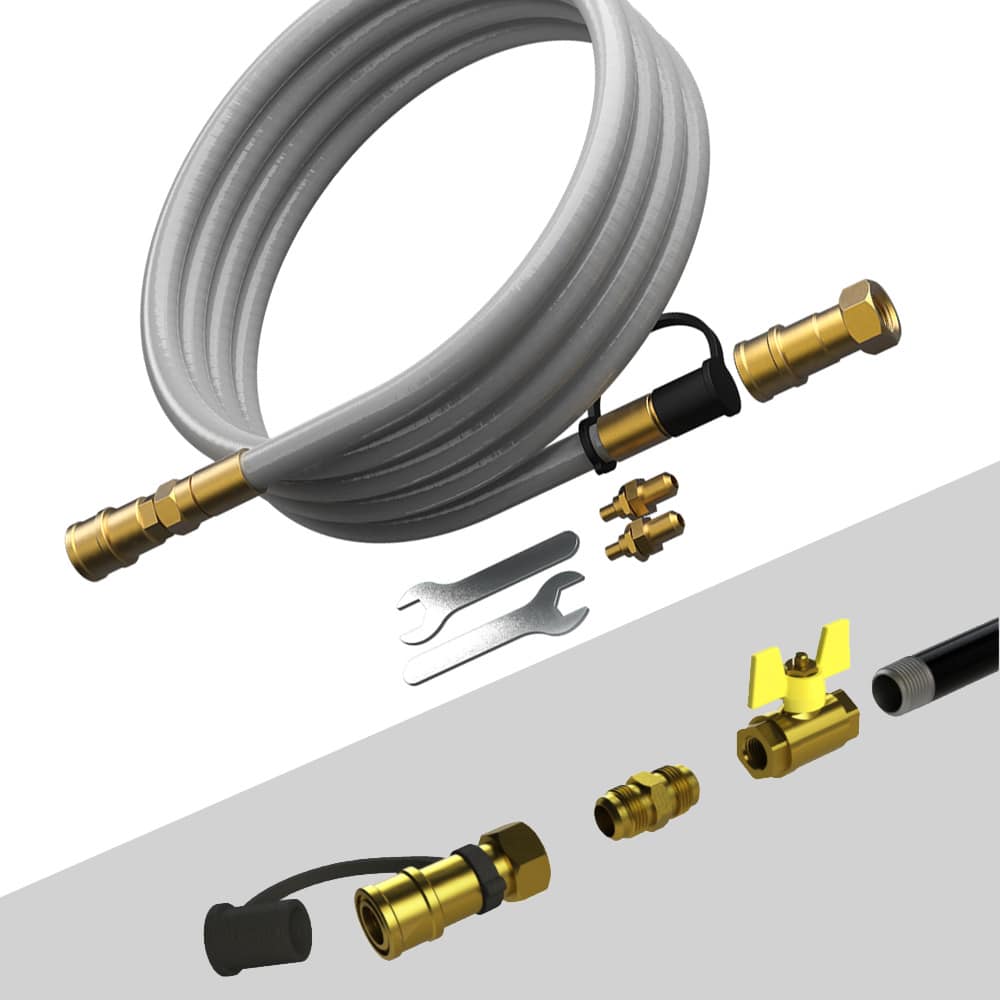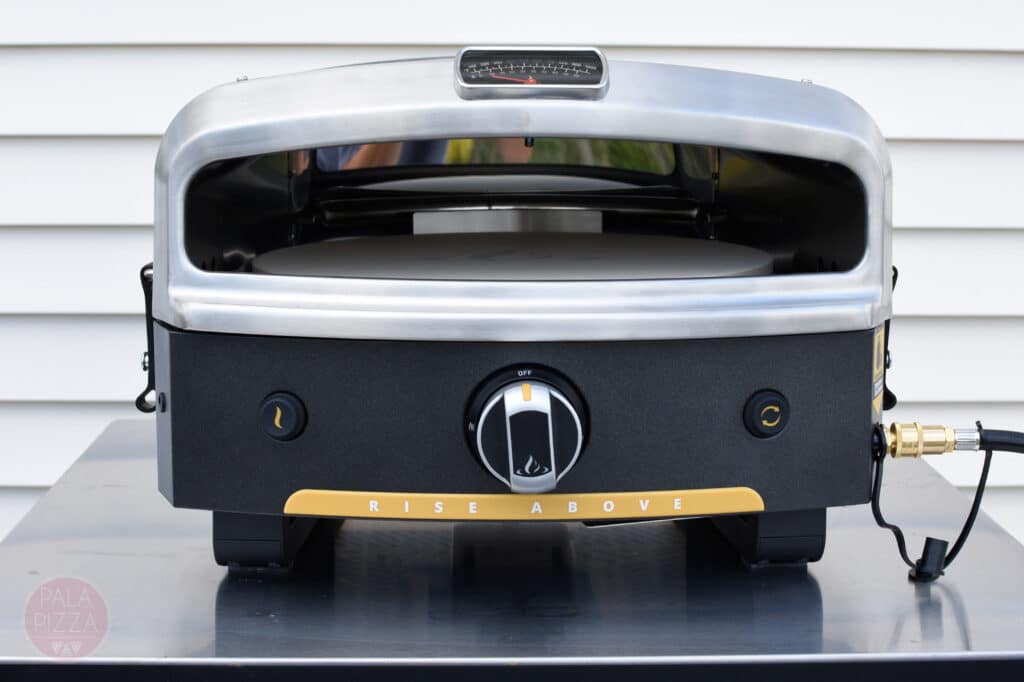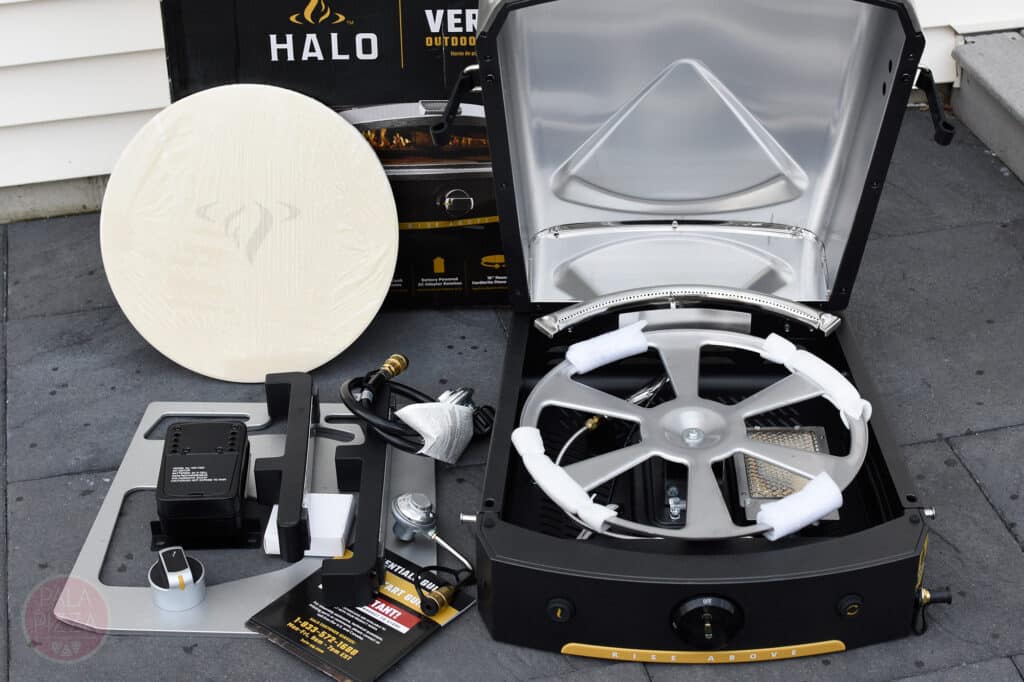 Halo might not be a big name in the pizza oven industry, but they're definitely one to watch. The Halo Versa 16″ is a compact, portable, affordable gas oven packed with game-changing features. Like a rotating pizza stone! If you're tired of turning your pizzas every 20 seconds, then the Versa is for you. The cordierite pizza stone sits on a rotisserie plate that constantly turns while cooking ensuring a perfectly even bake. 
And of course, the Halo Versa is also natural gas compatible with the conversion kit. I love the high quality brass quick connects they use. 
Another significant innovation is the dual burner system. The Versa has one burner at the back of the oven and a second one underneath, which heats the pizza stone and keeps it at a high temperature. This lets you cook pizza after pizza without waiting for it to heat back up. This is an awesome feature we only see on one other oven on our list, the Bertello Grande, a larger, heavier oven that costs $200 more. 
Thanks to those dual burners, this oven can get up to 950 °F in just 12 minutes, cook a 16″ Pizza in less than 5 minutes, and doesn't struggle with multiple bakes. 
This square, squat oven was just built for camping and tailgating, but it'll be equally at home in your backyard. It weighs only 43 lbs, is compatible with either a 20lb or a 1lb propane tank, and the revolving stone can be powered by 2D batteries or mains power. Plus, it has a 3-stage temperature control, a built-in temperature gauge, and a hinged body for easy cleaning. And it's budget-friendly too!
Ooni Karu 16 + Natural Gas Attachment
Versatile Oven With Door
The Ooni Karu 16 Multi-Fuel pizza oven is our #1 pizza oven overall. This thing does it all, and at the fraction of the cost of comparable performing pizza ovens. A new half-door option improves temperature retention during cooks.
Weight – 62.6lbs
Max pizza size – 16 inches
Max heat – 950° F
Price – $900 with the burner
Preheat time – 15 minutes
Pizza cook time – 60 seconds
Warranty – Free returns within 60 days (conditions apply), up to 3-year warranty (if you register the product) otherwise it's one year.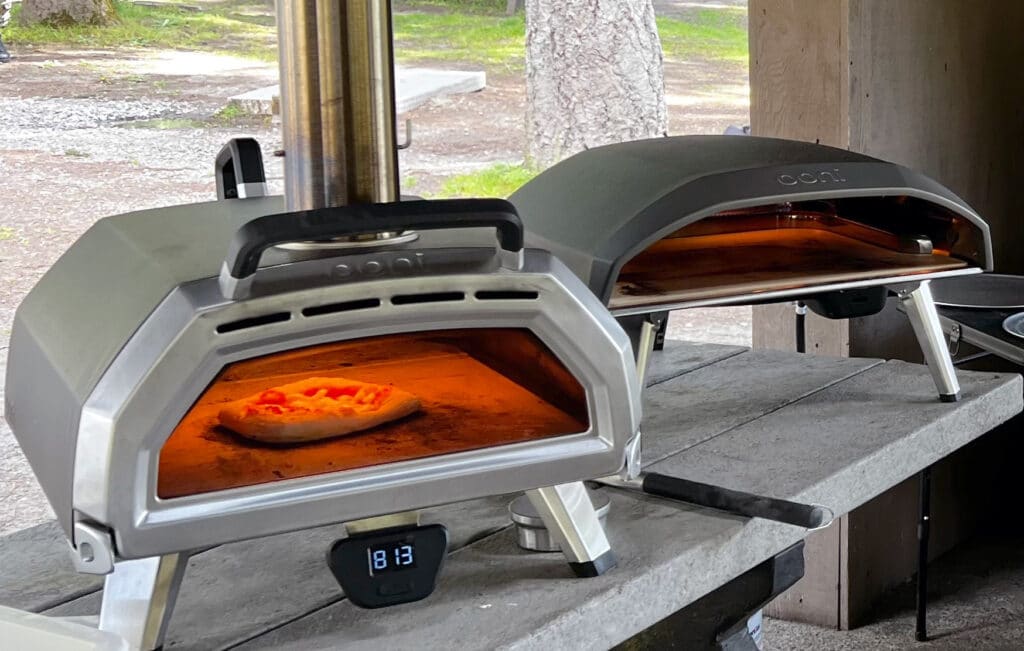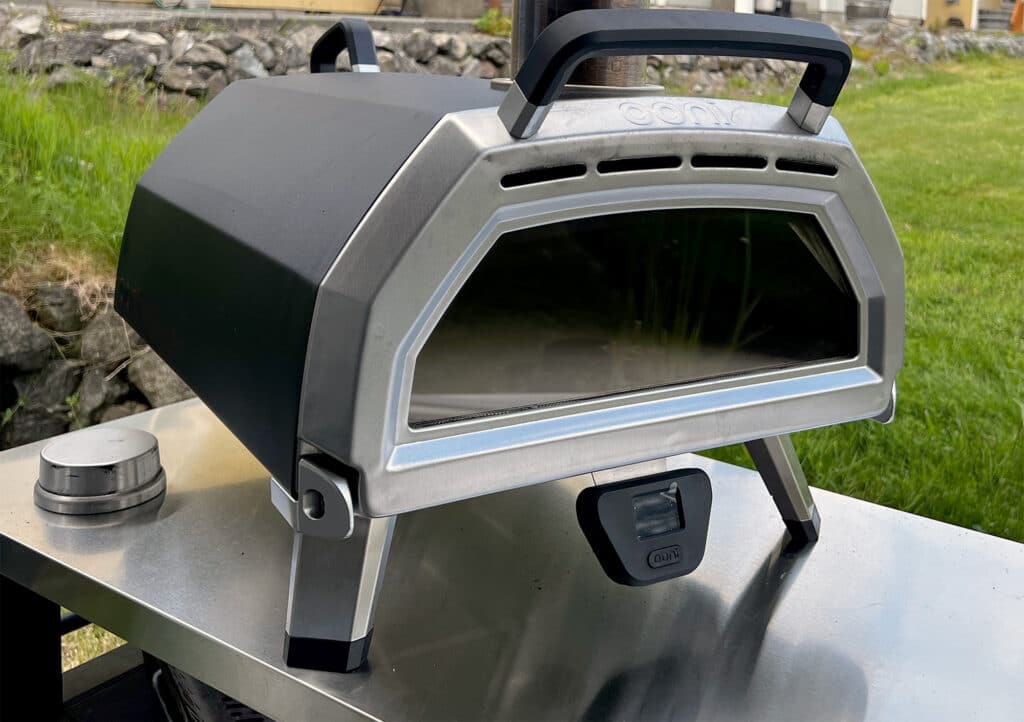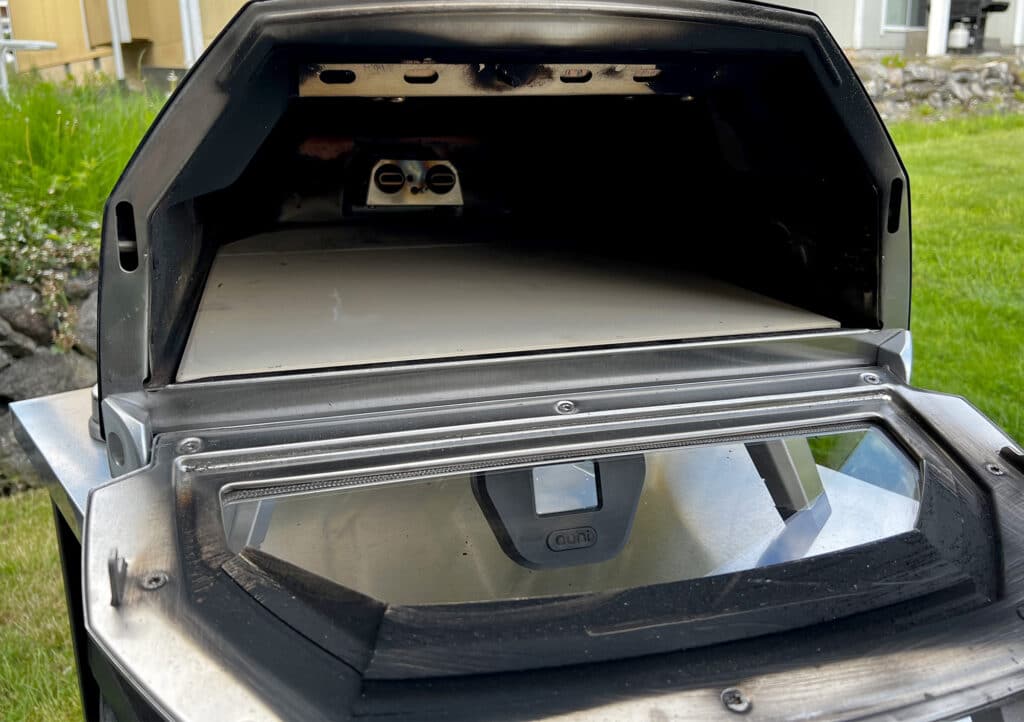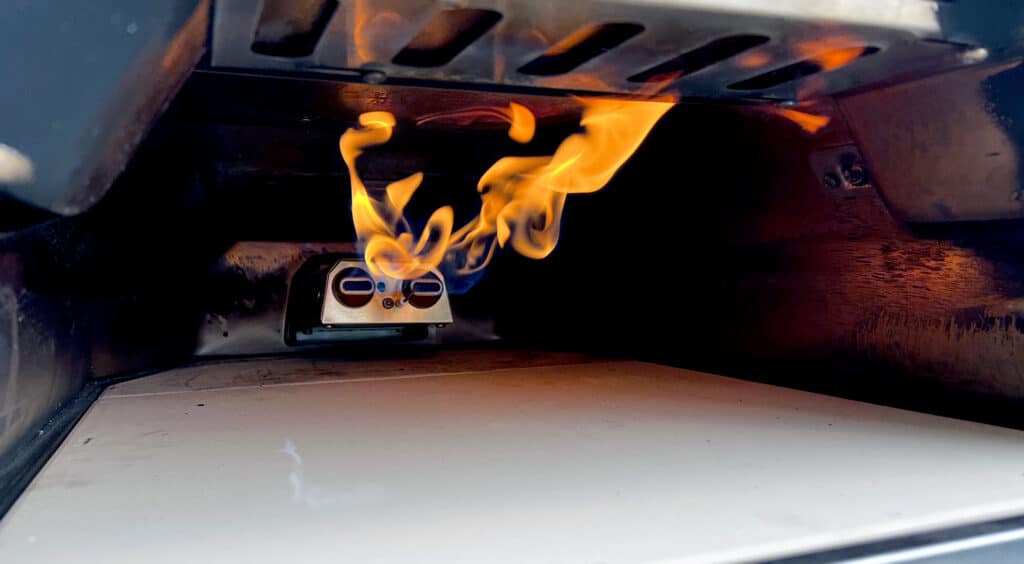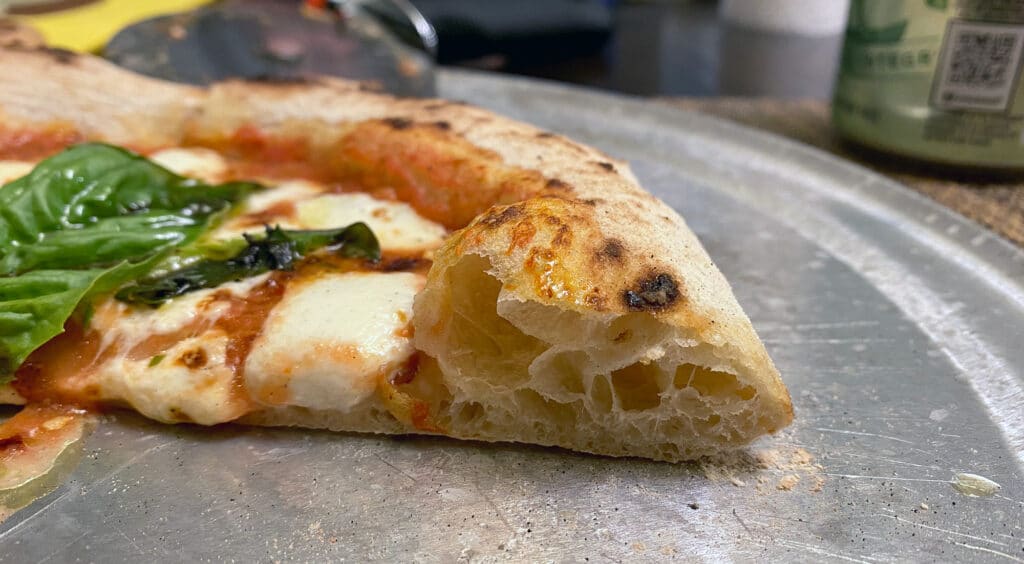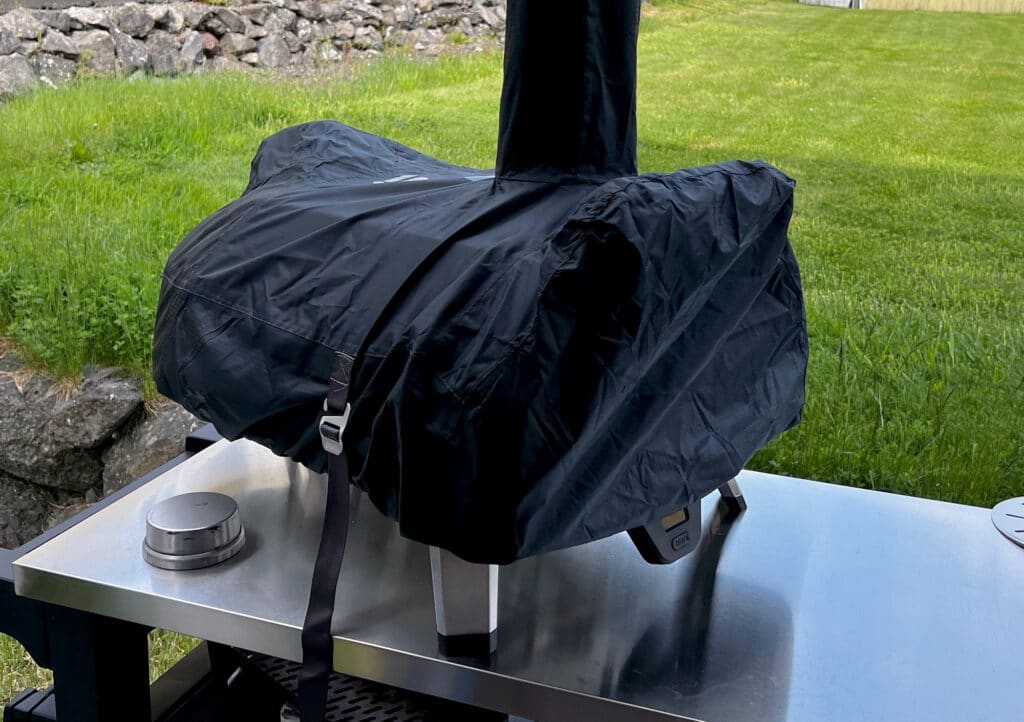 This portable, multi-fuel oven comes from Ooni, industry leaders in the pizza oven market. The Karu 16 is an update on their popular Karu 12 model and has some great new features. They've expanded the cooking area, so it's over 30% larger than the Karu 12, allowing you to cook 16″ pizzas and larger trays of meats or vegetables. It also has improved airflow and insulation, a built-in digital thermometer, and a sleek glass door to improve heat retention. 
Another great thing about this oven is that it's multi-fuel, so you can cook with wood or charcoal straight from the box or purchase the attachment to convert it into a gas oven (they sell separate burners for natural gas or propane). 
The Karu 16 is a rapid oven that heats up to 950°F in just 15 minutes and cooks a pizza in 60 seconds. The door opening is wide and makes for easy maneuverability, and the glass panel in the door is perfect for keeping an eye on your pizza as it cooks. 
We love the Karu 16 oven, it's easy to use, offers fuel flexibility, looks great, and makes delicious pizza fast. That's why it ranks number one on our list of the best pizza ovens. If there is one downside, it would be that at 62lbs, this oven is a little too heavy to carry around to campsites and picnics. So it's not as portable as some other models on our list. But for backyard cooking, it's perfect. 
The De Facto Standard of Natural Gas Pizza Ovens
Ooni Koda 16 is the best gas pizza oven after testing and comparing performance and cost.
Weight – 40.1lbs (18.2kg)
Max pizza size – 16 inches
Max heat – 950° F
Price – $599.00
Preheat time – 20 minutes
Pizza cook time – 60 seconds
Warranty – Free returns within 60 days (conditions apply), up to 3-year warranty (if you register the product) otherwise it's one year.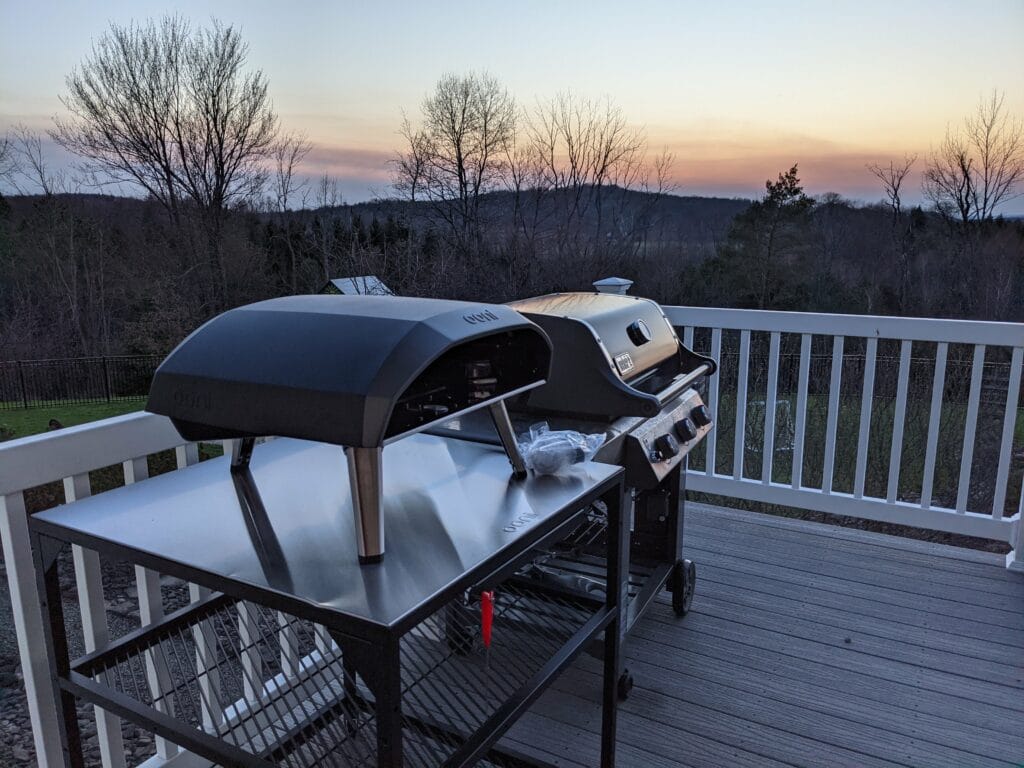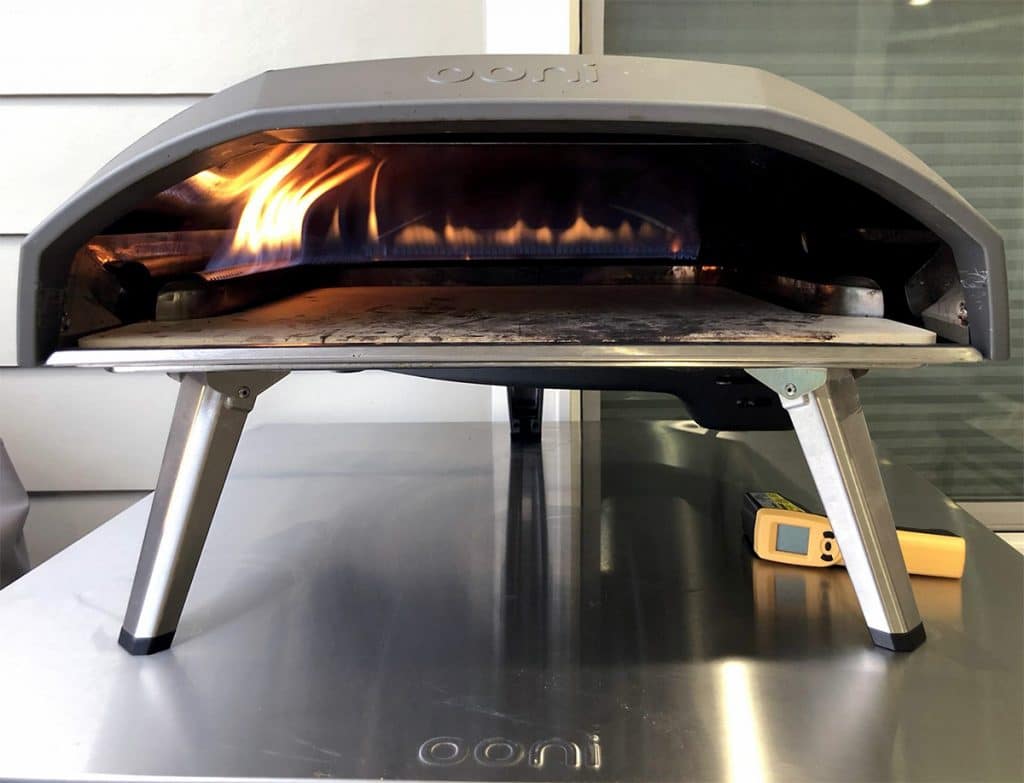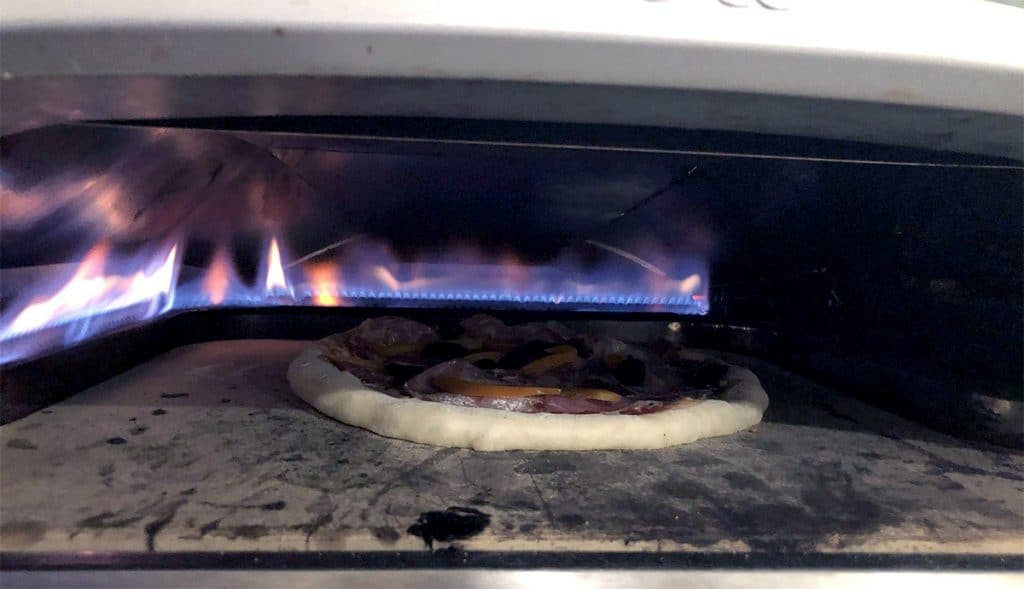 The second Ooni oven on our list is the Koda 16. We like this gas-only oven for the innovative L-shaped design of its gas burner. Rather than having the flame located at the back of the oven, it runs along the side too, maximizing preheating and cooking speed. This L-shaped heat source also cooks ⅓ of your pizza at once, meaning it needs less turning during cooking. 
Upon ordering online, you can select propane or natural gas fuel options. However, you can also purchase a natural gas conversion kit for the Koda 16 in case you happen to currently have a propane model.
Like all the Ooni ovens, the Koda 16 exceeds the 900°F needed to make delicious, traditional Neapolitan pizza. It reaches a temperature of 950°F in around 20 minutes and can cook the perfect pizza in around 60 seconds. 
For chefs who love cooking with gas it's an excellent option. It's easy to use and has great temperature control, allowing you to slow cook or bake more delicate items at a lower heat. The large cooking area is designed for 16″ pizzas but can also accommodate two cast iron pans side by side. Thanks to the high heat and the ashless nature of gas, clean-up in this oven is almost non-existent. And at 40lbs, it's lighter than both the Bertello Grande and the Ooni Karu 16.
Gas & Wood At The Same Time
You heard that right. This patent pending pizza oven uses a gas burner under the pizza stone to help retain heat while also using wood as the main fuel source up top. Best yet, the gas burner lights the wood for you!
Weight – 58.7lbs
Max pizza size – 16 inches
Max heat – 900° F
Price – $699.99 (frequently on sale)
Preheat time – 15 minutes
Pizza cook time – 90 seconds
Warranty – Lifetime on manufacturer defects.
Bertello Grande Natural Gas Burner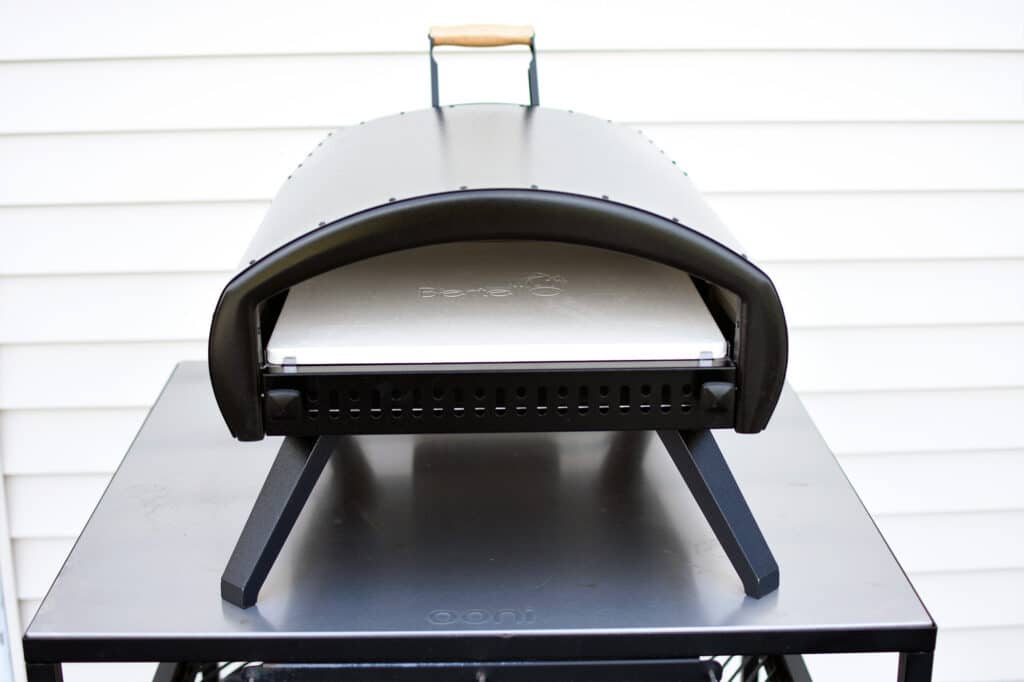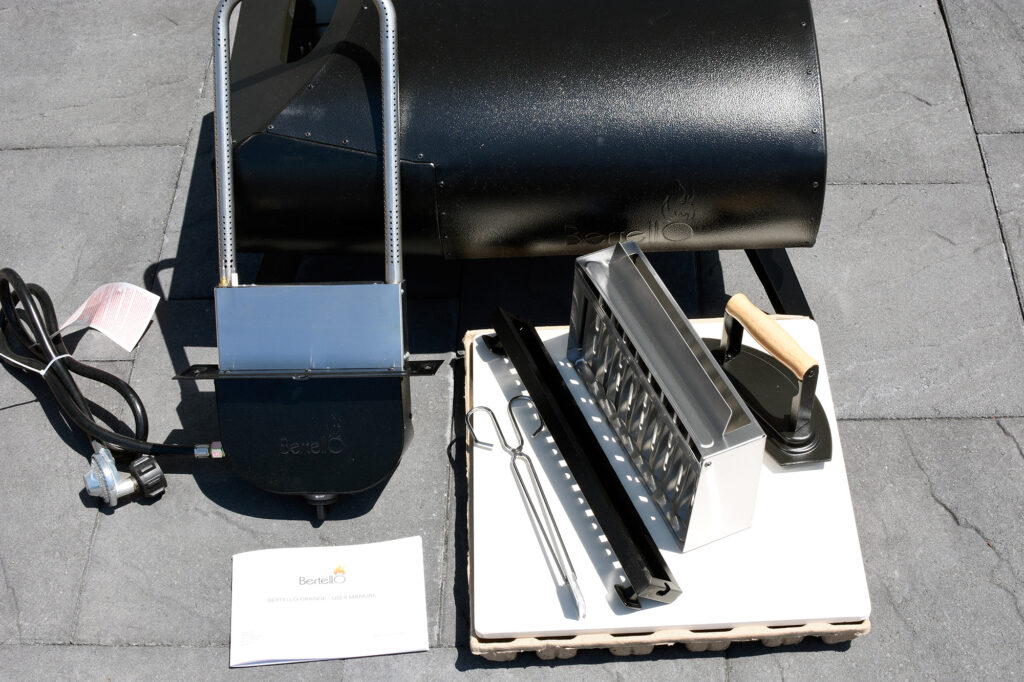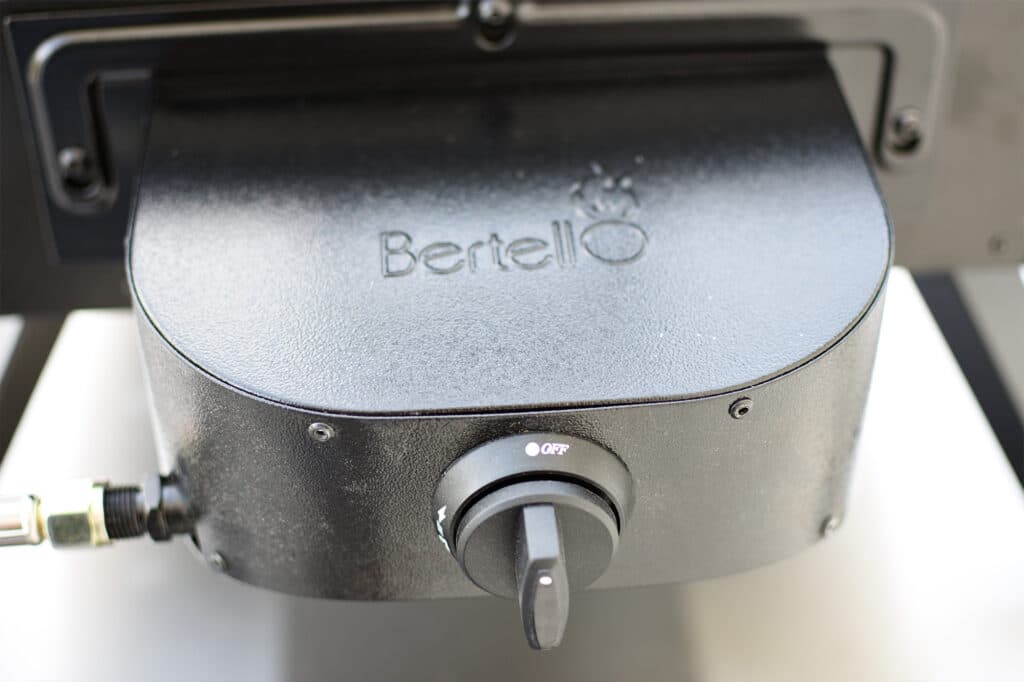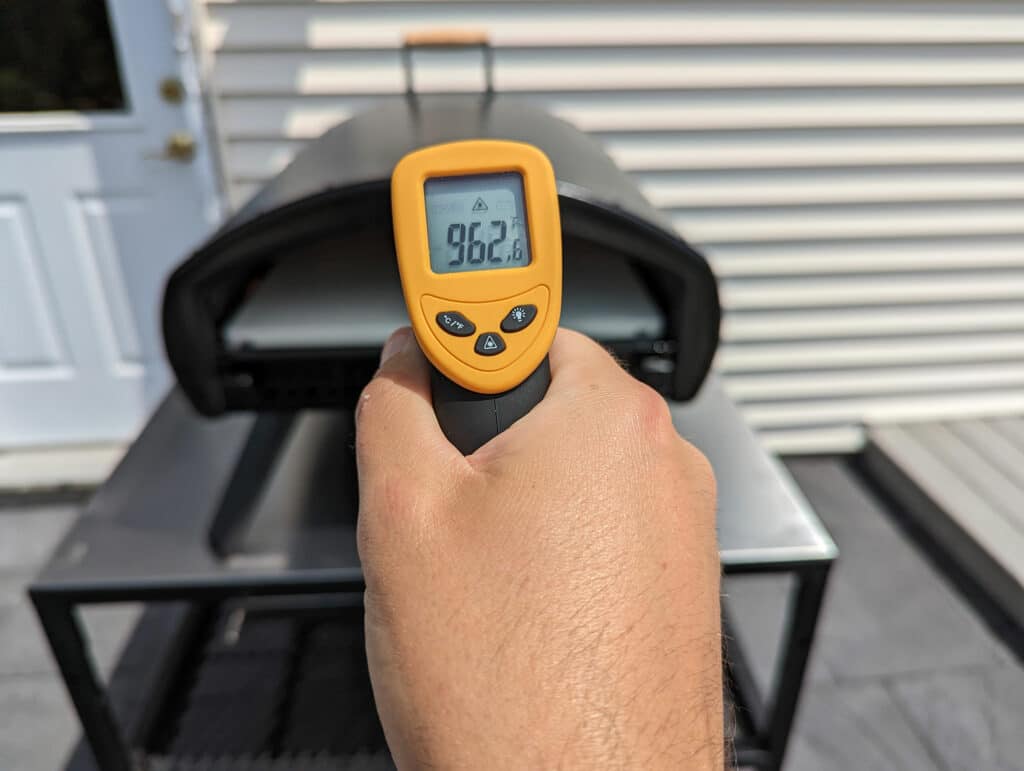 We were big fans of the first Bertello oven which took the industry by storm with its budget-friendly price. So we were thrilled to see that the Bertello brothers had been at it again with the Bertello Grande, a larger, heavier oven than the original with some new and exciting features. 
But I have good news and bad news about the natural gas. While the Bertello Grande IS natural gas compatible, you have to purchase a whole separate burner rather than just a conversion kit like most companies offer. This will set you back another $135.
The most innovative of these features is the dual burner system. The Bertello grande has two gas burners, one at the back of the oven as usual and a second U-shaped burner that sits under the pizza stone. This second burner is a genius addition that ensures your pizza stone heats up rapidly and – crucially – stays hot for multiple bakes. With these two burners going, this oven – and the pizza stone – reach a temperature of 950°F in 15 minutes and can cook a pizza in less than 2 minutes. 
It's also a dual fuel oven and can be used with the gas burners, a wood burner, or a combination of the two. Combining fuels is the best option since you get the rapid preheating and hot pizza stone from the gas, plus the wood-fired smoky flavor from the wood burner. But more importantly, the heat generated from adding wood helps even out the temperature and provide for a better cook; for example, if you use gas only, the stone can get hotter than the ambient temperature above, meaning your base will finish before the toppings do. So do note that we recommend this oven as long as you're open to tossing a few wooden logs in the tray from time to time (the gas burner lights them automatically – no dealing with kindling or paper). 
We love this oven for its creative design, cool aesthetic, and the speed at which it can turn out multiple delicious pizzas. It's well insulated, retains heat well, has a huge cooking area, and a wide opening that gives plenty of wiggle room for launching and turning your pizzas.
Gozney Dome: Natural Gas Option
Best Oven Overall (Premium Pick)
The Gozney Dome is the best oven overall after testing and comparing performance and cost. But perfection comes at a premium.
Weight – 128lbs
Max pizza size – 16 inches
Max heat – 950° F
Price – $1800.00
Preheat time – 30 minutes
Pizza cook time – 60 seconds
Warranty – 5 years (if you register the product) otherwise it's one year.
Gozney Dome with Natural Gas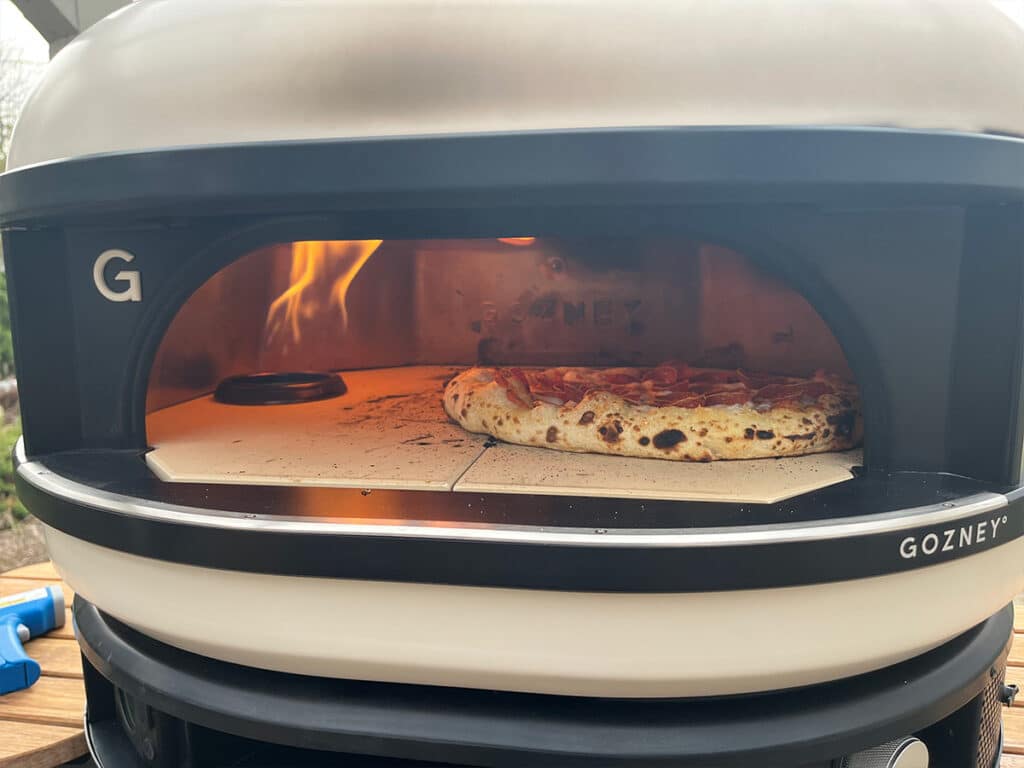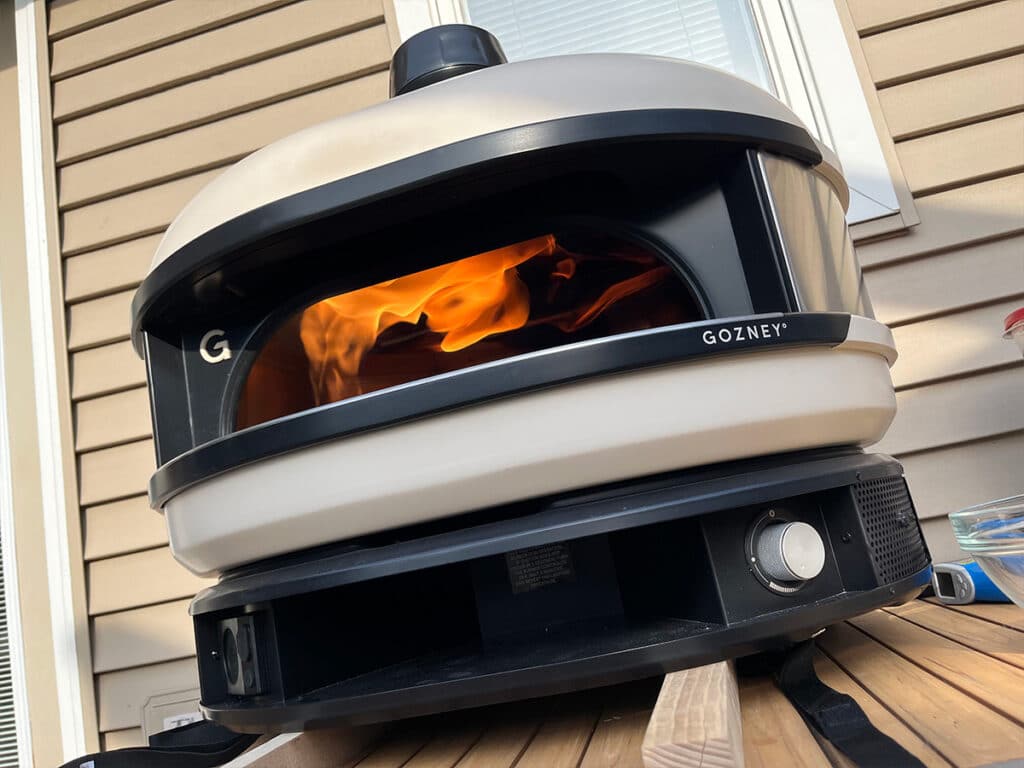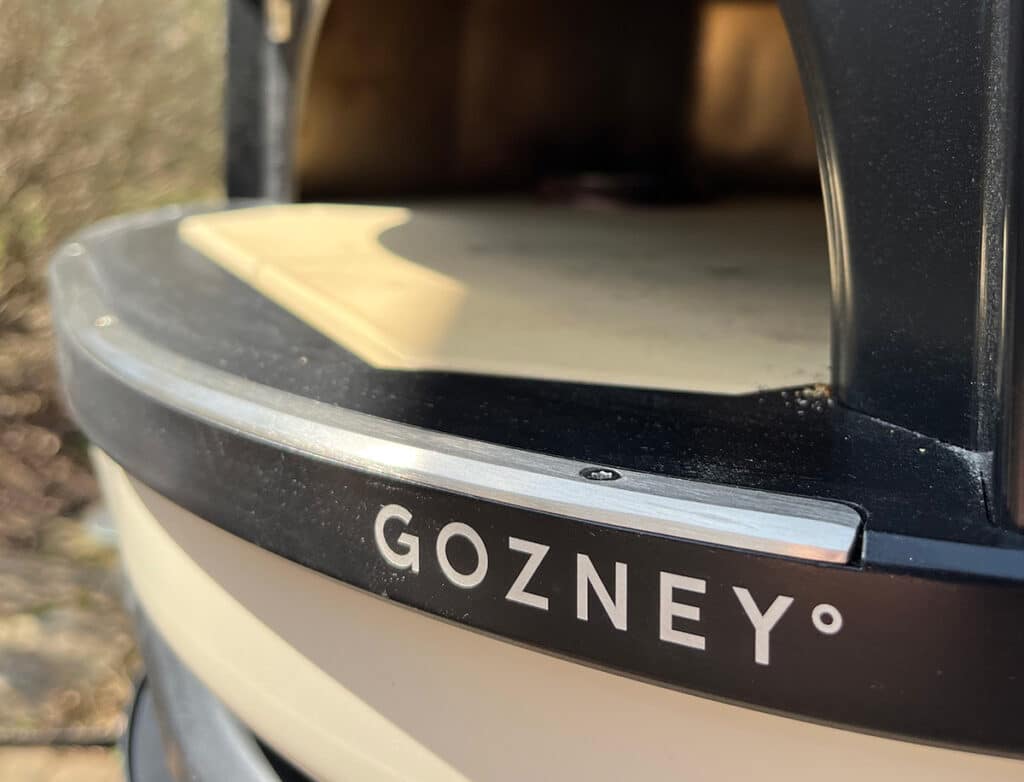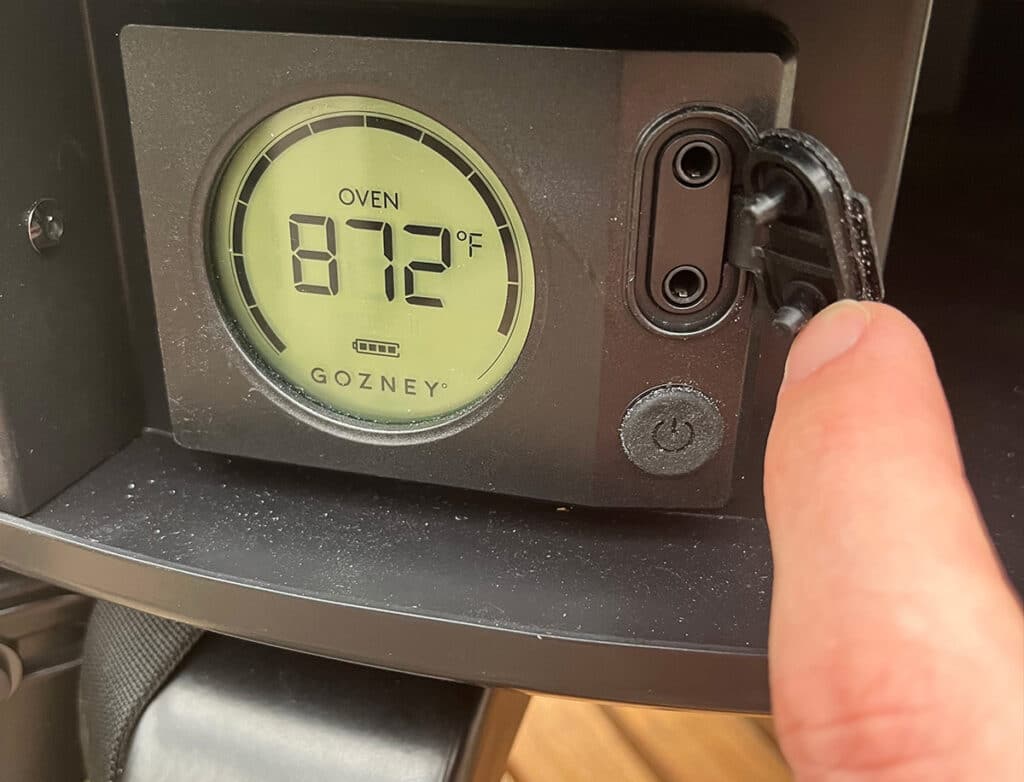 The Gozney Dome Pizza Oven is substantially more expensive than the other ovens on our list so far, but you get so much oven for the price!
It has a beautiful design, and like the Gozney Roccbox, it steers clear of the standard stainless steel or matt black look. Instead, the Dome comes in bone or olive green, either of which is a sophisticated addition to any outdoor kitchen. 
The Gozney Dome can be purchased ready for natural gas, but they do not sell conversion kits. So make sure your mind is set on propane vs natural gas before ordering. And one other thing to take note of: the Dome requires constant 7″ W.C. min pressure to perform at the temperatures stated, which I believe is a bit higher than some of the smaller ovens.
It's a heavy piece of kit at 128 lbs, so you wouldn't consider it portable in the sense of taking it camping. Instead, you can fit it permanently into your outdoor kitchen, stand it on a barbeque island or counter, or mount it on the custom, wheeled stand.
It comes in two models, wood burner or dual fuel, and we definitely think dual fuel is the way to go. That way, you have the flexibility to make a quick, week-night pizza with gas. Or preheat quickly with gas and then use the wood fire to add flavor.
The Dome has a maximum temperature of 950°F and, because of its size, takes a little longer to preheat than smaller models. Once hot, it cooks pizzas in 60-80 seconds. But that's not all it can do. The Dome can bake, slow roast, and steam, and you can even attach a cold smoker. The sky's the limit with this beautiful, versatile, high-quality oven.
What is a gas pizza oven?
To cook great pizza, you need temperatures higher than your average domestic oven can reach. A dedicated pizza oven can reach over 900°F, whereas a typical household oven can only get to about 500°F.
These high-temperature pizza ovens were once prohibitively expensive, permanent constructions only available in restaurants. But with the invention of the self-contained, portable pizza oven, we can all now create a restaurant-quality pizza in our back yards. And we can choose from ovens powered by wood, charcoal, gas, or a combination of fuels. A gas pizza oven uses propane or natural gas as its fuel source.
How does it work?
Gas ovens work quite simply. They are usually dome-shaped with a burner in the back or side of the space. When lit, this burner fills the inside of the oven with an evenly dispersed heat, leaving no cold spots. The bottom of the oven is often made from brick or contains a pizza stone that absorbs heat and mimics the refractory conditions in a traditional pizza oven.

It is not the flames from the burner which cook your pizza but the heat which is radiated back to the pizza from the walls and stone floor of the oven. This is why a pizza oven must be made of the correct, well-insulated materials. Otherwise, the heat escapes, and it takes longer to cook your pizza, and you won't get that perfect, bubbled, chewy crust of a proper Neapolitan pizza.
Benefits of natural gas pizza ovens
One of the main choices you'll make when deciding on a pizza oven is what fuel you want to use. While wood-burning pizza ovens are extremely popular, gas ovens have plenty of their own benefits. Here are some of the main ones.
Easy to use. Gas ovens are easier to use than their wood-burning counterparts. Wood-burning ovens come with a big learning curve as you get used to lighting, stoking, and maintaining the fire to reach the correct heat. But with gas ovens, lighting them is as simple as pressing a button, and you can set the perfect temperature with the turn of a knob.
Temperature control. Since they have easier and more accurate temperature control than wood ovens, gas ovens can be a better option for slow cooking or dishes that require a lower temperature.
Easy to clean. A large part of gas cooking is the lack of mess. You don't have to deal with cleaning soot and ash out of the oven each time you use it. All you'll need to do is remove any flour or drips of food from the base of the oven or pizza stone.
Convenient. There's no sourcing of wood or chopping of logs for a gas oven. Simply connect your gas tank, and away you go. Plus, if your home already has a gas line, your pizza oven can be connected directly to it.
Smokeless. Gas ovens can be used anywhere. Since they don't give off smoke, they're not subject to the same restrictions as wood fires which are banned in some neighborhoods, campgrounds etc.
Fast. Gas pizza ovens can cook pizzas much faster than a domestic oven and will speed up your dinner process.
Healthy. Food cooked fast and at high temperatures is good for you. Any toppings you add to your pizzas, like vegetables, meat, or fruit, will be perfectly cooked before they have time to dry out. As a result, they stay juicy and succulent, full of flavor and nutrients.
Versatile. Gas pizza ovens can be used for much more than just pizza. You can bake bread and pastries, roast meats, seafood and veggies, even cook stews and casseroles. In fact, you use them for cooking anything you would in a regular oven.
Portable. Plenty of gas ovens are lightweight enough to be taken with you on camping trips, road trips, and cookouts, meaning you can have delicious pizza wherever you go.
Features to consider when purchasing a gas pizza oven
Pizza ovens come in all shapes and sizes with different features and specifications, so it's important to know what to look for when choosing your perfect oven.
Size and style. Some pizza ovens are small and lightweight enough to be taken on camping trips, while some are large, heavy pieces of equipment that, once installed, will be a permanent fixture of your home or outdoor kitchen. You need to choose the size that suits your lifestyle.
Cooking capacity. Alongside the oven's external size, you need to consider its cooking capacity. Will a small oven that cooks 12″ pizzas be enough for you, or do you want one that can fit 16″ pizzas? Remember, if you plan to use the oven for more than pizza, be sure to get one that will accommodate your other plans.
Max Heat. The ability to reach high temperatures sets a pizza oven apart from domestic ovens. So make sure you choose one that can reach temperatures of at least 700°F but ideally 900°F.
Burners. Something to look at with gas ovens is the shape and placement of the burners. Most feature burners at the back of the oven, which work well to heat the space but can leave the front of the pizza stone a little cooler. And some have u-shaped burners which spread the heat more evenly. A few pizza ovens also have under-stone burners, a nice feature that keeps the pizza stone hot between bakes.
Insulation and heat retention. Good insulation helps a pizza oven heat up fast and retain its heat for a fast bake. Poorly insulated ovens let heat escape, slowing cooking times, wasting fuel, and resulting in subpar pizzas.
Speed. One of the main things to think about when picking your pizza oven is how long it takes to heat up to optimal temperature and how fast it can cook a pizza.
Multiple pizzas. Some pizza ovens handle cooking multiple pizzas better than others. For example, some allow too much heat to escape or let the pizza stone cool down too much during the first bake. When that happens, you need to wait between bakes for the oven to heat back up to optimal temperature. If you'll only ever be cooking single pizzas, then this is not a problem, but if you want to cook many pizzas for your family or friends, look for an oven that's proven to handle multiple bakes.
Price. Of course, your budget is one of the main considerations when making a purchase like this. So on our list, we've included quality gas ovens to suit all wallets.
How to use a gas oven
Using a gas oven is simple, although the exact method will vary from oven to oven. First, make sure your oven is connected to its gas tank or source. Then hit the igniter, turn the dial to the perfect temperature and allow the oven to heat up.
When the oven is at the optimal temperature, slide your first pizza inside. Keep an eye on your pizza as it bakes, turning it regularly to ensure an even bake, and remove it once it's done. Slice and enjoy!
If you're cooking multiple pizzas, check that the oven is still at the correct temperature or allow it to reheat before putting the next pizza in.
Once you're finished, switch off the oven and wait for it to cool down completely before cleaning it. To clean, simply scrape any leftover flour, dough, or drips of toppings off the pizza stone or oven base, then brush or wipe with a dry cloth.
Top Tip – Some ovens on our list have built-in thermometers to help you keep track of the temperature. But even if they do, they only show the ambient temperature of the oven. We like to use an additional digital thermometer to check the exact temperature of specific areas of the oven – and crucially, the pizza stone – to ensure the ideal temperature before adding the pizza.