Ooni ovens are built to last thanks to the powder-coated carbon steel shell of the newer models (older Pro and Karu models only have a steel sheel). These portable pizza ovens can withstand outdoor elements pretty well on their own, but it's always a good idea to cover your oven when it's not in use – especially if there is no overhead protection from rain. There's a few important reasons we'll cover in a minute. But before we get into why we want to cover our new favorite outdoor toy, let's quickly talk about price.
Let me start by saying I love everything about Ooni as a company. They have great customer service, they innovate non stop, build crazy reliable products, and do great stuff with the community and social responsibility. But their covers are a bit expensive. This steep price is a big reason we made this article in the first place: to compare the price and performance of the manufacturer cover vs other options on the market. At the time of this write-up, Ooni pizza oven covers cost:
Let me start by saying the covers all fit flawlessly, and the carry handles on some of the models are excellent. If anything, I think the fabric seems a bit "light duty" for the price tag. So shortly after buying my Ooni Koda, I wanted to see if there were cheaper products that get the job done, even if the fit wasn't perfect. And there definitely are, for as little as 1/3 of the price – or cheaper!
So if you're the type of person who thinks "I just paid a good chunk of change for a premium pizza oven, I want the cover that was made for it", buy the ones listed above. There's definitely nothing wrong with them, they do the job and look great in the process. Or, if you're one of those people who want to get the job done with a cheaper option or a thicker material, read on!
Now, if you own an Ooni Pro, Ooni Karu 12, or an Ooni Karu 16, and like to leave the chimney hooked up, then paying up for the Ooni brand cover may be a good idea since the covers are custom fitted to also protect the chimney. But if you own a Koda 12 or Koda 16, or are ok with removing your chimneys from other models, there are way cheaper options you should consider. Let's take a look at them.
The Best Ooni Koda Cover: Backpack Rain Covers
Believe it or not, but it was discovered that drawstring (or clip) waterproof backpack covers can be a perfect fit for the Ooni Koda. You just need to make sure you order the correct size. Here's the cover I bought for my Koda 16 along with the correct backpack cover sizes to order, depending on on which model you own. Note: these will also fit other Ooni models as long as the chimney is removed.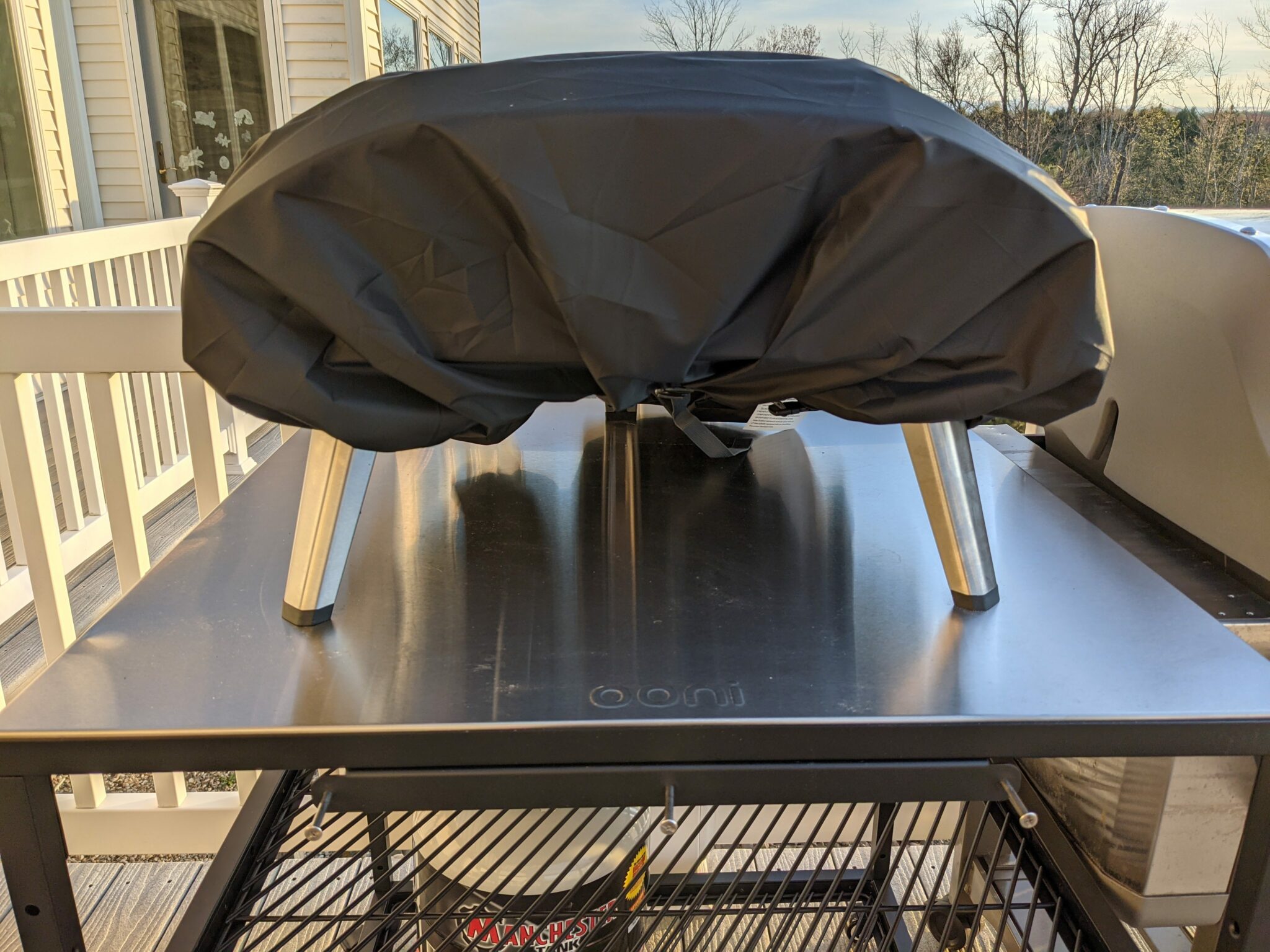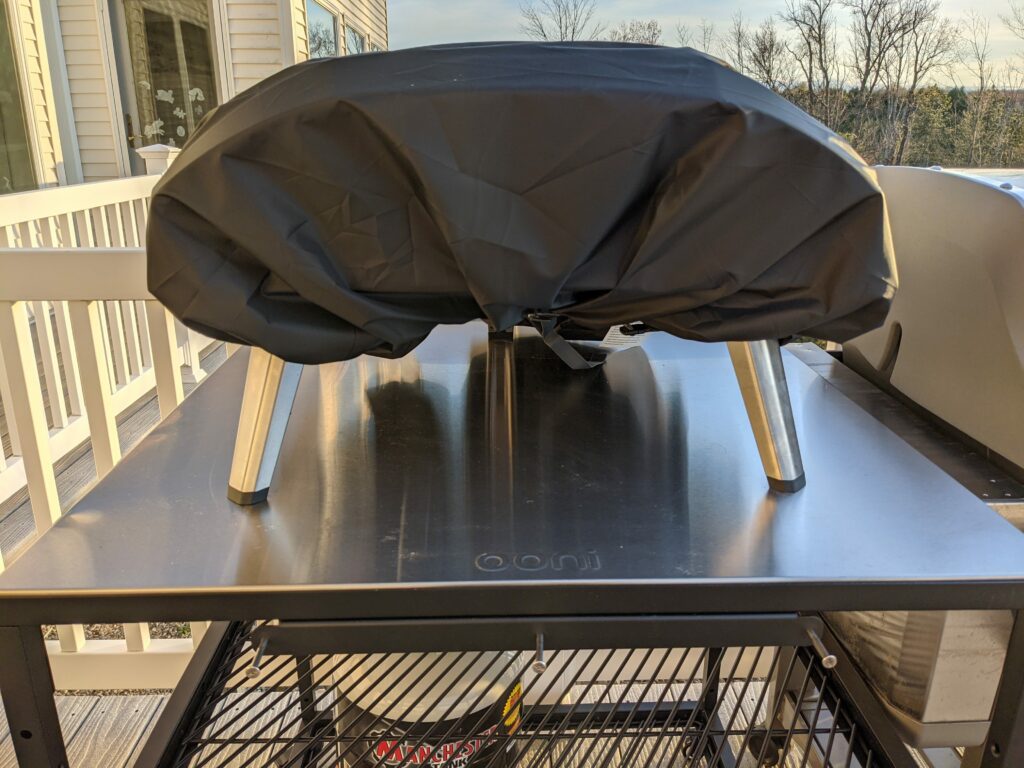 Joy Walker Backpack Rain Cover
I've been using this cover for a year and half now. I left the Ooni outside all winter long in the Northeast and no water (or mice) found a way in. The fit is just about perfect, almost like it was made for it. And it only cost 15 bucks shipped!
If you own a Koda 16, order a size XXL (70-90L)
If you own a Koda 12, order a size Large (40-50L)
Silfrae Waterproof Backpack Rain Cover
This is an even cheaper option, but does not have clips; it's just a fitted stretchy band. With the correct size, this will still stay put no problem. My back porch particularly sees a lot of high winds, so I went with the prior option that includes clips just for extra security.
If you own a Koda 16, order a size 70-80L
If you own a Koda 12, order a size 40-50L
The Best Ooni Karu 16 Cover: Custom
Covers & All has a really solid reputation, and they have outdoor pizza oven templates to use as a starting point where you can edit your measurements to custom fit the size. For the new Karu 16, you want to use their "Outdoor Pizza Oven Covers – Design 4" template. If you don't feel like measuring everything yourself, here are the sizes for the Ooni Karu 16″.
Height: 36″
Height of Chimney : 16.5″
Diameter of Chimney : 4.5″
Handle Depth : 1″
Width : 20″
Depth : 32″
Depth from front to chimney : 5″
Height#1 : 5″
It's not quite as tight of a fit as the OEM cover, but having a little extra room makes it easier to cover it and remove. With the 36″ height, you will fit the legs under the cover as well. Shorten this a few inches if you prefer to leave the legs out and want to tuck it under the body of the oven.
Using the Cover Max fabric, elastic bottom, and no grommets, the cost comes out to about $47 shipped. This is just a few bucks cheaper than Ooni's cover but the Cover Max material is a lot more what you would expect when buying a cover, plus you have the choice in color.
Best Ooni Karu 12 Cover: IKEA
Alright, this one might not be for everyone… but come on. It's $5. Nothing costs $5 these days. The IKEA FRAKTA 20 gallon bag is 28 ¾x13 ¾x11 ¾ " and even has backpack straps so you can toss it on your shoulders. This is taking portable pizza ovens to the next level.
You will need to remove your chimney, of course. But this bag gets the job done if you're looking for the cheapest option.
Best Cover for Ooni Table
A lot of people like to cover up their Ooni table as well so you can just leave it outside all year and to help avoid rusting. I'm one of those people, because I park my pizza ovens alongside my grill, which stays outside all year covered up. Unfortunately, Ooni doesn't even offer a cover for this.
The Large Ooni Modular Table has dimensions of 31 x 31 x 35″ (80 x 80 x 90cm). Wonderfully enough, there are super cheap air conditioner covers that fit this perfectly! I bought a 32 x 32 x 36″ cover on Amazon from Sturdy Covers. It came to $40 shipped and is a really nice material with straps on it. Having the table and pizza oven covered separately really makes it look like a professional setup rather than draping a larger cover over both of them, and it has a much tighter fit.
If you bought the Medium Ooni table, you will likely have to go the custom route with Covers & All. Use this template and enter in the dimensions 23 x 31 x 35. The cost comes to about $57.