BBQ chicken pizza. Everyone wants one, but not everyone knows how to make one. The sweet and smoky BBQ sauce, tender chicken, pickled red onion, and cilantro are topped with Alabama white BBQ sauce on a NY-style crust. Does it get any better than that?!
Here, we will show you how to make each homemade element of The BEST BBQ Chicken Pizza Recipe! From-scratch meals like this always taste better than from a pizza joint. Feel free to save the individual recipes, such as the pickled red onion, for other things, too!
What is BBQ Chicken Pizza?
BBQ chicken pizza is a sweet, smoky, and tangy pie that was created in 1985 by the restaurant chain, California Pizza Kitchen. It was the first variety of pizza on their menu, created by their chef Ed LaDou. Before working for CPK, LaDou was a chef at Spago, a famous restaurant owned by Wolfgang Puck.
LaDou's interesting pizza creations earned him national success at Spago. In the 80s, pizza was not often experimented with, so these creative pizzas were very progressive for the time. Because of these pizza creations, Spago became one of the most sought-after dinner spots, with reservations filling up weeks in advance.
In 1985, cofounder of CPK, Larry Flax, approached LaDou with an idea for a pizza restaurant. The two partnered up and developed new, interesting pizzas for the new restaurant menu. The Original BBQ Chicken Pizza was their first creation, and featured shredded chicken, homemade BBQ sauce, onions, cilantro, and fontina cheese on their signature crust.
Our BEST BBQ Chicken Pizza has similar elements to the original CPK version, but ours has a lot more elements of spice, tang, and smokiness. Our specific ingredients create a pizza that checks all of the boxes, but the flavor profile is much more delicious!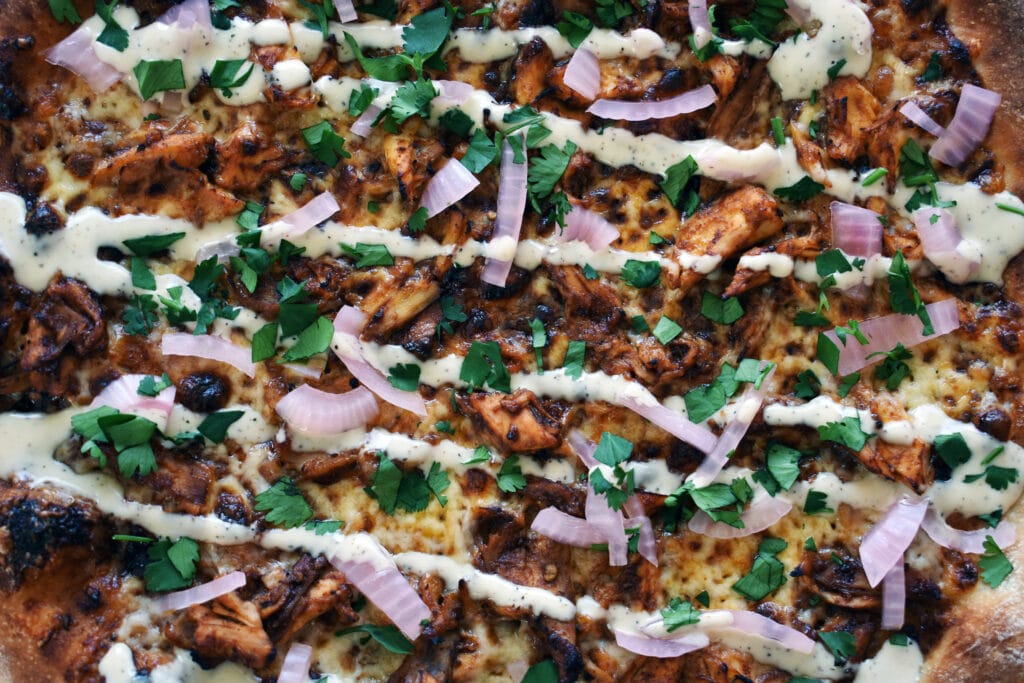 What Are the Elements of This Pizza?
Our recipe follows CPK's lead, but we have put a lot of thought into exactly what type of chicken to make, what kind of cheese to use, and which BBQ sauce is best. In fact, we use two types of BBQ sauce in this recipe!
To make this pizza perfectly, here are the elements in our BBQ chicken pizza:
NY-style pizza dough
Traditional BBQ sauce
Whole-fat mozzarella
Smoked Jack cheese
Cooked shredded chicken (we used Joshua Weissman's Nashville Hot Chicken, it is so good!)
Cilantro
Homemade pickled red onion
Homemade Alabama white BBQ sauce
What Type of Crust Should I Make?
Personally, we find that NY-style pizza dough has the best texture for this particular style of pizza. BBQ chicken pizza holds a lot of toppings, so a nice, pliable crust with a large surface area will cradle the toppings perfectly.
NY pizza dough is a well-hydrated dough. The final result is crisp, but can easily be folded in half without breaking. Many people, mostly New Yorkers, love to fold their pizza slice in half and eat it like a sandwich. For a pizza with lots of toppings, it works really well because the crust allows for stability.
How to Make The BEST BBQ Chicken Pizza Recipe
Making this pizza at home is simple! Get the dough going, cook the chicken, ready your toppings, and prepare to have one of the best pies you have ever made!
NY Pizza Dough
To refresh your mind on making our NY-style pizza dough, click here.
Pickled Red Onion
Pickling your own onions is super simple to do. Make some extras and save them for topping sandwiches, wraps, or salads!
First, bring some water and vinegar to boil. Dissolve some salt and sugar in the solution. Then, add your sliced red onions and peppercorns. Turn off the heat and allow the onion to absorb the liquid. Allow it to cool, pour carefully into a mason jar, and place the lid on top. The onions can be eaten as early as two hours after initially cooking, however, the flavor will be more pronounced after 24 hours.
Alabama White BBQ Sauce
Next, you'll want to assembled your homemade Alabama white BBQ sauce. This is a creamy, mayonnaise-based sauce commonly found in the American south. It is tangy, slightly sweet, zesty, and spicy. You can put this on any barbequed meats or vegetables!
To make, add mayonnaise, apple cider vinegar, lemon juice, Worchestershire, ground black pepper, salt, and cayenne in a bowl. Mix well and store in an airtight container in the fridge for up to one week. This is what tops your BBQ chicken pizza in the end.
BBQ Chicken
We recently made a Nashville Hot Chicken Pizza that was so good, we had to keep going with more chicken pizza recipes. I simply grilled the chicken while basting with a smokey bbq sauce, however I also made this before with using leftovers from a grocery store rotisserie chicken! Both work excellent. Once the chicken is cooked, allow it to cool before shredding it. Place on top of the pizza dough before baking.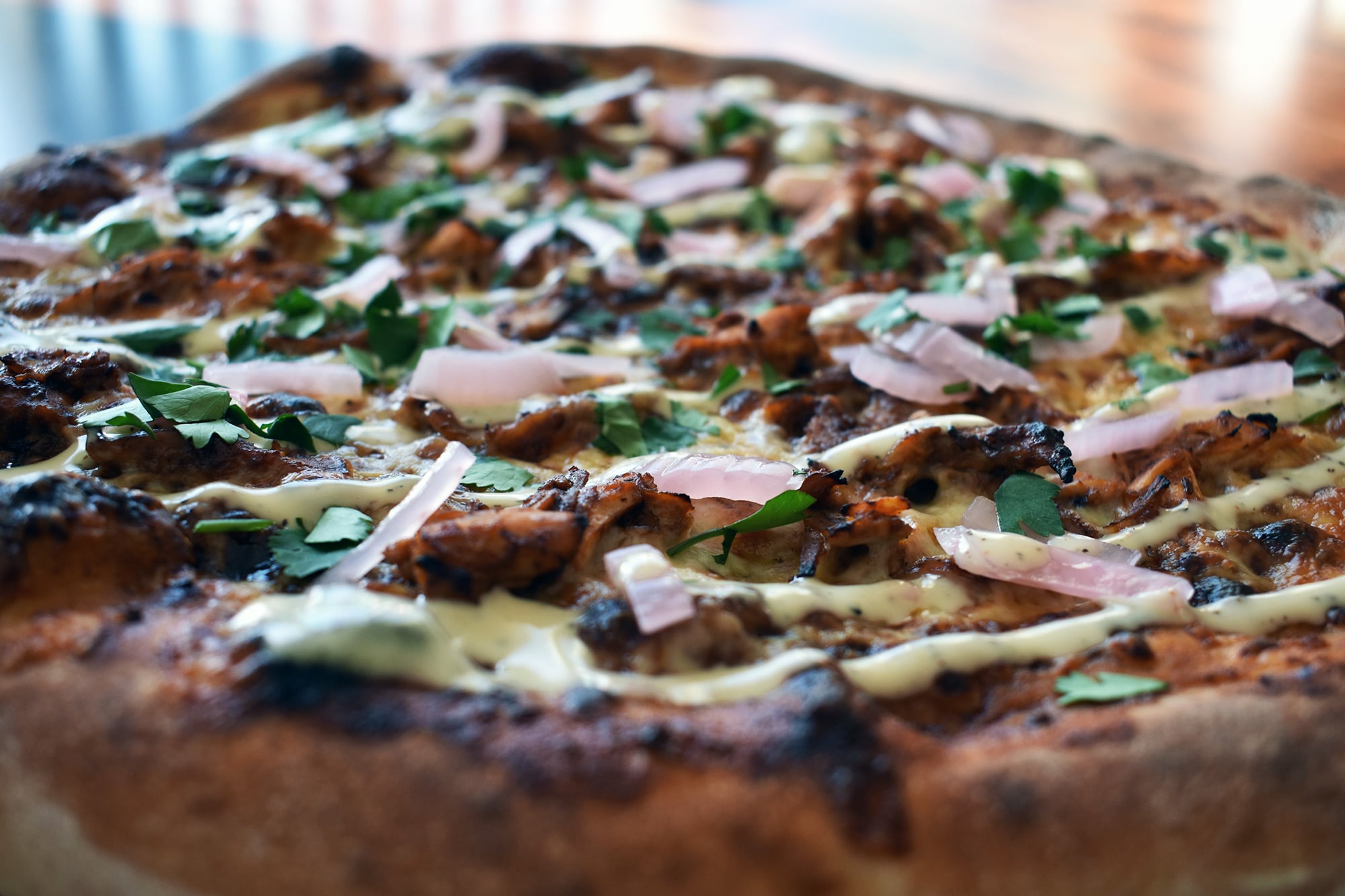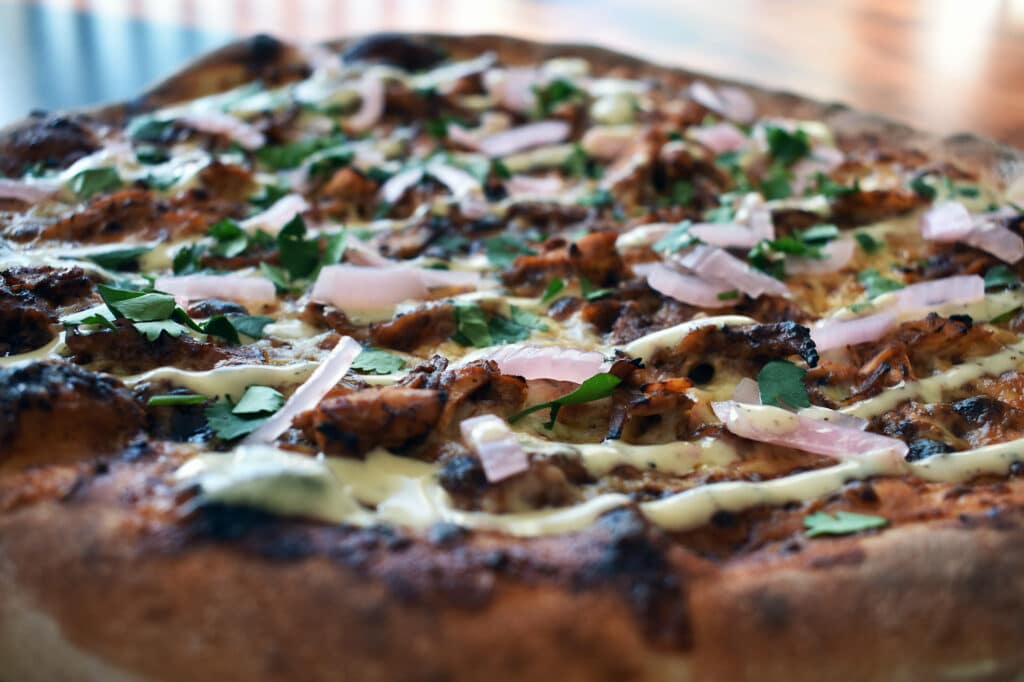 Putting It All Together
After the dough is made, spread it out to about 16-inches wide. Place on a pizza peel. Spread about half of the BBQ sauce over the pizza. Add an even layer of both cheeses. Then, top with the cooked, shredded chicken and the other half of the BBQ sauce.
Bake the pizza until crisp. Then, remove from your pizza oven. Add the final touches of pickled red onion, cilantro, and drizzle Alabama white BBQ sauce all over the top. Slice and serve!
The end result of this BEST BBQ Chicken Pizza Recipe is truly remarkable. The tart onions pair perfectly with the creamy white sauce. The hot chicken and sweet BBQ sauce create a variety of flavors in your mouth at once. The fresh bite of red onion, cilantro, and white BBQ sauce at the end adds necessary fresh elements to this rich pizza. Trust us, this will be your new favorite. Now, let's get into the recipe!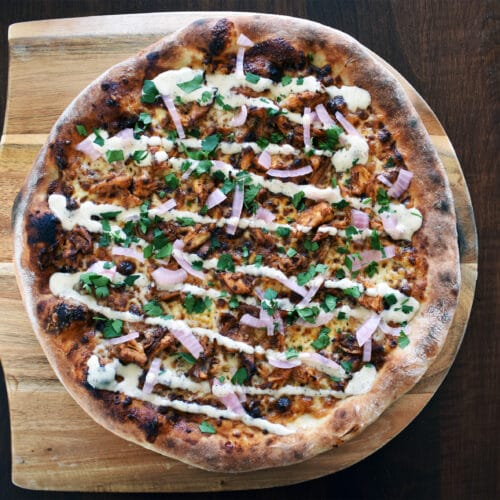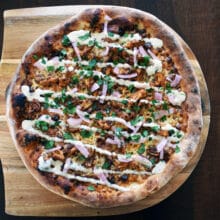 Smokey BBQ Chicken Pizza Recipe
I have two requirements that must accompany barbeque chicken pizza: pickled red onion and, of course, cilantro. These two ingredients take the pizza to a whole new level, creating a more well-rounded flavor rather than just bbq sauce. A typical smokey bbq sauce was used as the base of the pizza with an Alabama white bbq sauce drizzled on top. This is absolutely one of my favorites.
Print
Pin
Rate
Follow my pizza journey
I bought 15 pizza ovens to hands-on test.
It's a hobby, not an obsession! Here are the best pizza ovens.
Ingredients
1/2

cup

Barbeque Sauce

Divided

5

oz

Whole Fat Mozzarella Cheese

If using pre-shredded cheese in a bag, RINSE the cornstarch off and dry before using. This will create a much better cheese melt.

5

oz

Smoked Jack Cheese

Shredded.

420

g

NY style pizza dough

1

cup

Cooked Chicken

Shredded

Cilantro

Chopped, to taste
Pickled Red Onion
1

large

Red Onion

Sliced

2

cups

White Vinegar

2

cups

Water

1

tbsp

Sugar

1

tsp

Salt

10

Peppercorns (Whole)
Alabama White BBQ Sauce
1

cup

Mayonnaise

1/4

cup

Apple Cider Vinegar

2

tbsp

Lemon Juice

1

tbsp

Worchestershire Sauce

1

tsp

Ground Black Pepper

1/2

tsp

Salt

1/2

tsp

Cayenne Pepper
Seriously. I have a lot of pizza ovens.
Let me show you the best after hundreds of hours testing. Read my in-depth pizza oven reviews!
Instructions
Pickled Red Onion
Add water and vinegar to a small pot and heat over medium-high heat until boiling.

Add salt and sugar, stir to dissolve. With the liquid at a boil, add red onion and peppercorns, then shut off the heat.

Allow to sit for 5 minutes to cool a bit, before pouring into a glass mason jar. Continue cooling at room temperature, about one hour, before placing in refrigerator to continue pickling. Onions can be used as early as two hours after cooking, however the flavor will be more pronounced 24+ hours.
Alabama White BBQ Sauce
Add all ingredients into a bowl and mix well. Transfer to a squeeze bottle and refrigerate until ready to use.
Pizza
Flatten and stretch dough into 15-16" pies, sprinkling bread flour on the dough as needed to avoid sticking. If cooking in indoor oven, place dough on pizza peel prepared with a sheet of parchment paper. If using an outdoor oven, just place on a pizza peel.

Prepare your pizza by ladling half of the BBQ sauce onto stretched dough. Starting from the outside and moving inward, spread a light even layer of cheese.

Add chicken to the remaining BBQ sauce and toss well. Evenly spread chicken across pizza.

Choose ONE coothing method below.
(Option 1) Indoor oven
Preheat to 550F for 45 minutes with pizza steel or stone on bottom rack.

Using the pizza peel, carefully move pizza to oven (parchment paper should make it slide easily – you can leave it on the paper or remove the paper after 1 minute of cooking), and cook for about 6 minutes, watching closely for crust color and cheese burn. Avoid rotating when baking in home ovens as temperature loss from opening the door often does more harm. If top needs more color, turn on broiler for 1-2 minutes towards the end.
(Option 2) Outdoor pizza oven
Preheat your Ooni (or other portable outdoor pizza oven) for 25 minutes. The oven should reach near 850F in this time. Reduce the flame to very low. Place pizza in oven and cook for ~3 minutes (+/- 30 seconds depending on color) rotating as needed.

TIP: if using an Ooni Koda or another gas model oven, reduce the heat to low just as you place the pizza in; this creates really great crust color without burning the cheese too early. This may increase cook time slightly.
Finishing Touches
Let pizza cool for one minute on a wire rack or cutting board.

Top with pickled red onion, cilantro, and drizzle Alabama White BBQ; slice and serve.
Notes
If using an outdoor pizza oven, such as Ooni Koda, the baking process will only take a couple minutes max. If using an indoor oven at 550F, it will take closer to 5-7 minutes.