The Alfa NANO is the pizza oven formerly known as the Alfa ONE, made by industry-leading Italian manufacturer Alfa Forni. This family-run company has been in the business for over forty years and is well known for creating elegant, durable ovens with innovative engineering and quality craftsmanship.
The Alfa Nano is the smallest oven in their range. It's a 12″ wood (or gas) fired pizza oven that cooks delicious pizza super fast. But it comes with a high price tag that puts it at the premium end of the pizza oven scale. So in this article, we're going to dive into the features, design, and usability of the Nano to see if it's worth the cost.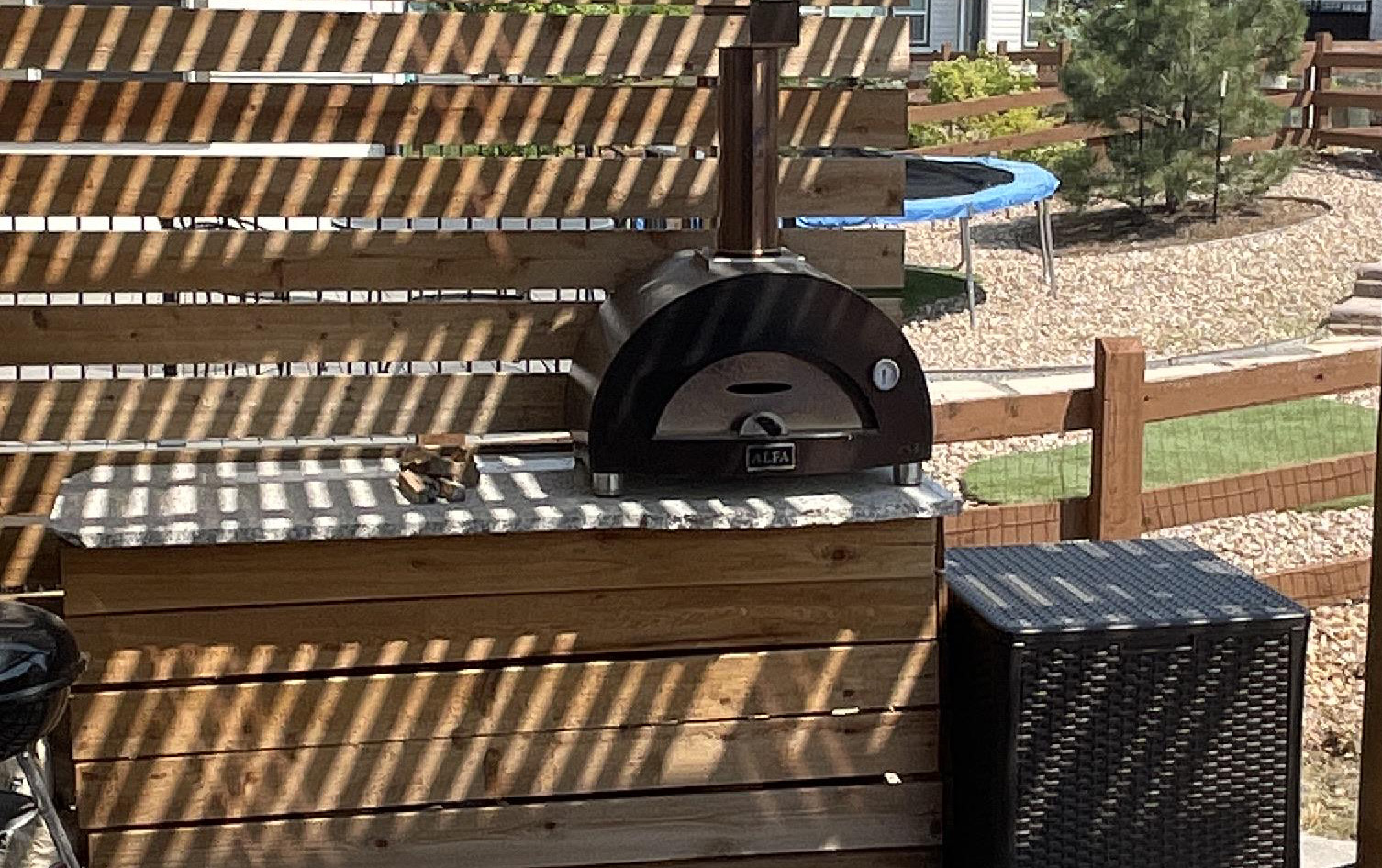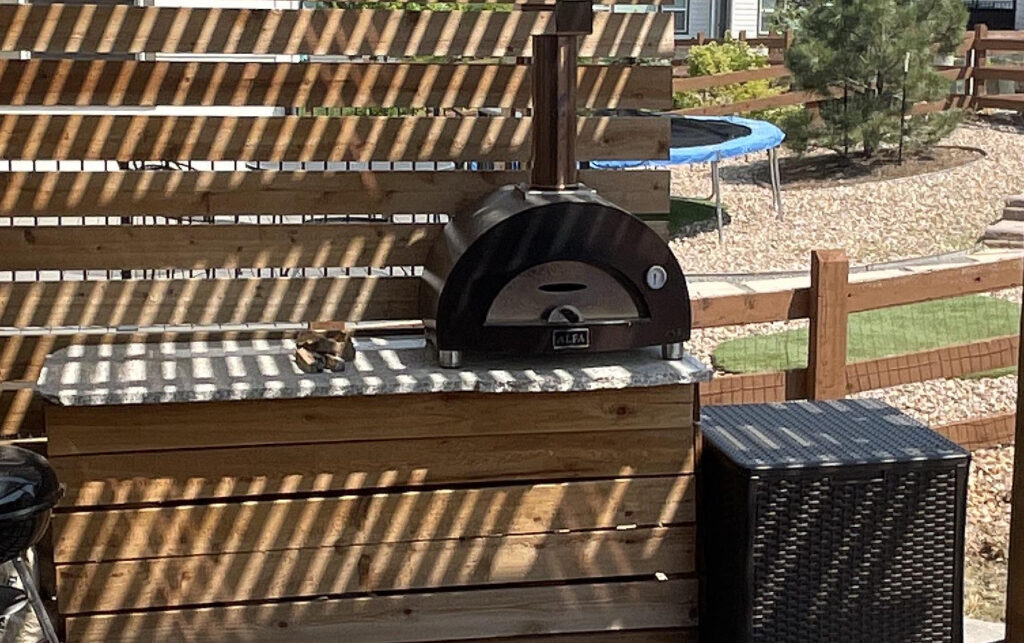 ALFA One Pizza Oven
Compact design reaches cooking temperatures in 10 minutes and bakes pizza in 90 seconds
Patented Forninox technology allows you to reach desired cooking temperatures with little fuel
Specially shaped dome effectively retains heat and cooks food evenly
Design and Feature
Fuel Source
The Alfa Nano comes in a choice of wood-burning or gas-fired oven. Wood-burning ovens are the preferred choice for traditionalists who want that authentic, smokey, wood-fired flavor and all the enjoyment that comes from cooking with wood. However, there's no denying that gas is a fast and efficient option for people who want to make great pizzas quickly.
The Nano ovens are not convertible, nor can you use them as dual fuel ovens. So you need to decide which fuel most appeals to you. In this review, I'm specifically looking at the wood-fired version (however I also interviewed two owners of the gas model for their input).
Size, Weight, and Appearance.
Dimensions: 29 x 22 x 19 inches
Opening size: 15 ½ inches
Cooking capacity: 12" pizzas
Weight: 50kg / 110 lbs
Alfa ovens are renowned for their elegant designs, sophisticated appearance, and heavy insulation that resembles a built-in oven rather than a portable one. Having one of these ovens in your backyard is guaranteed to level up your garden gatherings and inspire jealousy in your friends.
Unlike many ovens, which stick to the silver steel or matte black look, the Alfa Nano comes in a lovely beaten-copper finish. And the blended steel material has been double powder coated to protect against the elements all year round.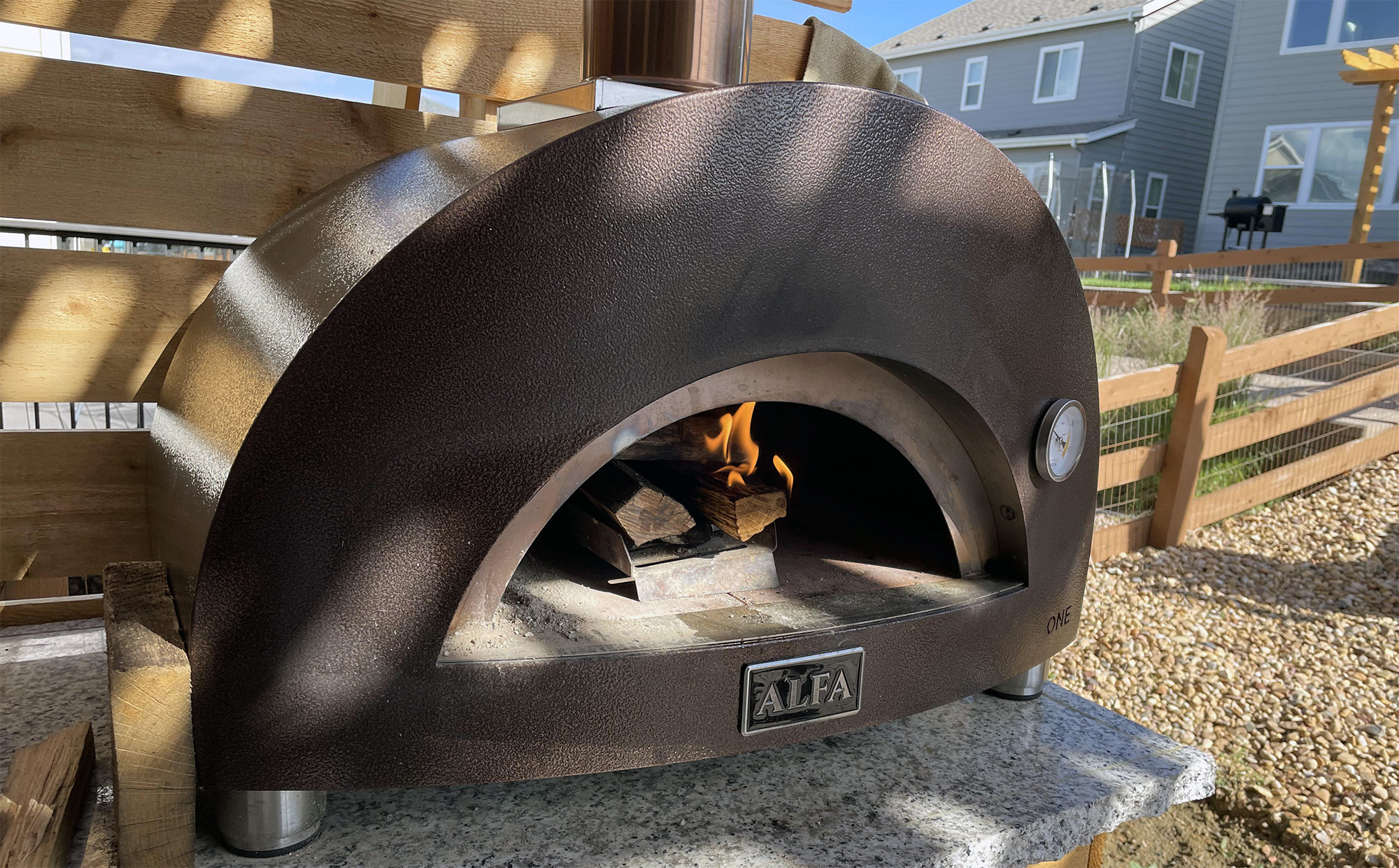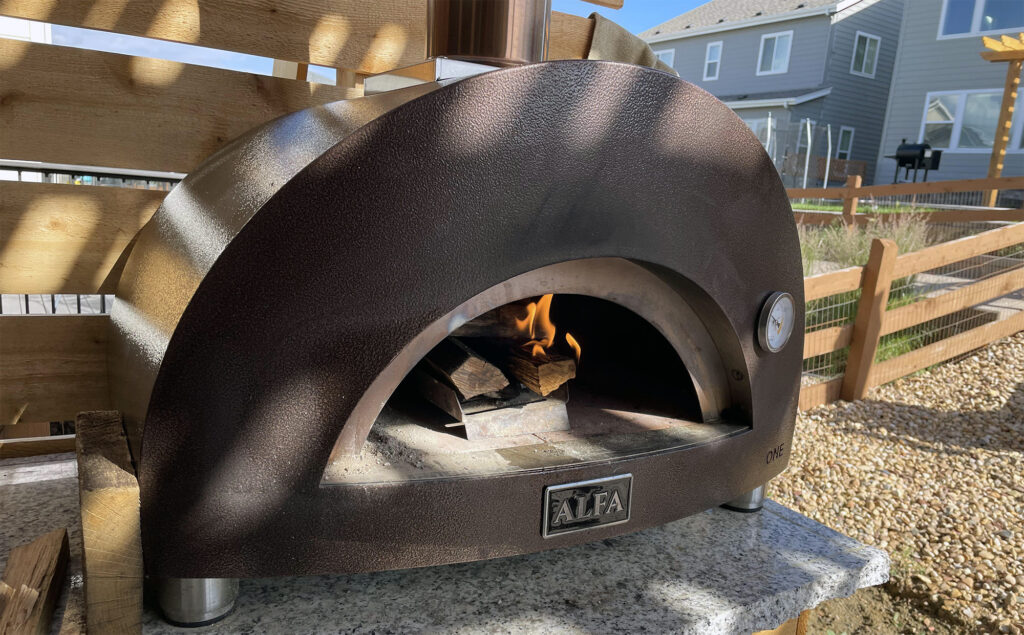 This oven has a cooking surface suitable for a 12″ pizza, but the opening is 15 ½ inches wide, giving you a little more room to play with. This makes it easier to turn your pizzas or slide in a roasting tray loaded with meat, seafood, or vegetables.
While the Alfa Nano is the smallest of the Alfa ovens, it's still a fairly sizable piece of kit. Its solid construction, spacious domed interior, and chimney mean that it will take up a good chunk of space in your backyard. But, you can choose to fit the Nano into your area in the way that suits you best. For example, you can have your Nano permanently fitted into a patio kitchen or choose to leave it standing freely atop a barbeque island or countertop. Alternatively, if you purchase the oven with its custom-designed base, it becomes a movable, freestanding unit that can be wheeled out when needed.
Those wheels come in handy because while the Nano is lightweight compared to a traditional pizza oven, it does still weigh 110lbs. So although this oven is technically portable, it's not the kind of oven you'll be taking to campsites and beach barbecues.
ALFA One Pizza Oven
Compact design reaches cooking temperatures in 10 minutes and bakes pizza in 90 seconds
Patented Forninox technology allows you to reach desired cooking temperatures with little fuel
Specially shaped dome effectively retains heat and cooks food evenly
Functionality
The Nano is the product of over 40 years of experience by Alfa Forni. This company uses forward-thinking designs and innovative technology to create portable ovens that give the same results as traditional ones.
The company uses Forninox™ technology to create their ovens. This combines the lightweight durability of a stainless steel shell with the thermal retention properties of a refractory brick base. The oven is then insulated with a double layer of ceramic fiber – the same isolation method used in professional-grade ovens.
These elements, plus a patented flue system, carefully designed opening, and a removable door, work together to create an incredibly efficient cooking environment. This oven not only heats up fast but retains its heat well and evenly spreads it throughout the oven to ensure the perfect bake every time.
A built-in Pyrometer allows you to track the temperature, while the peephole in the door lets you keep an eye on your food as it cooks.
Max Heat and Preheat Time
This oven is rapid. It heats up to 750°F in just 10 minutes and reaches its top heat of 1000 °F in 30 minutes. Once at optimal temperature, it can cook a perfect Neapolitan-style pizza in 60-90 seconds.
Thanks to its patented heat retaining properties, it also has no problem handling multiple pizzas one after the other. So feel free to slide that second pizza in as soon as you've taken out the first.
Setting Up and Using the Alfa Nano Pizza Oven
Set Up
The Alfa Nano comes with the main body of the oven completely assembled. There are merely a few finishing touches to add, which take only a few minutes.
First, simply screw the four feet into place, then slot the chimney into position. Next, place the wood basket in the center of the oven and attach the handles to the door and the pizza peel.
That's all there is to it, and you're ready to start cooking.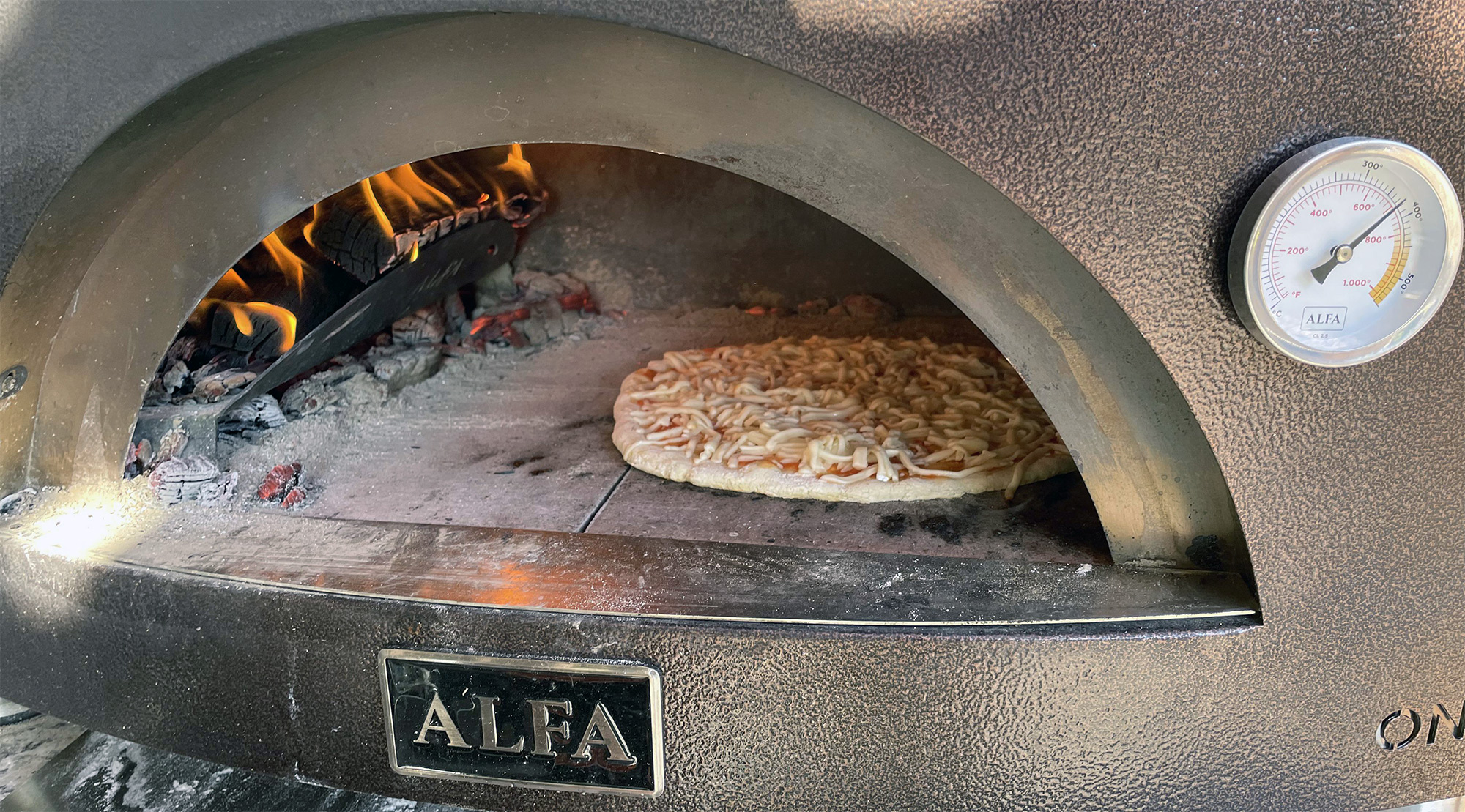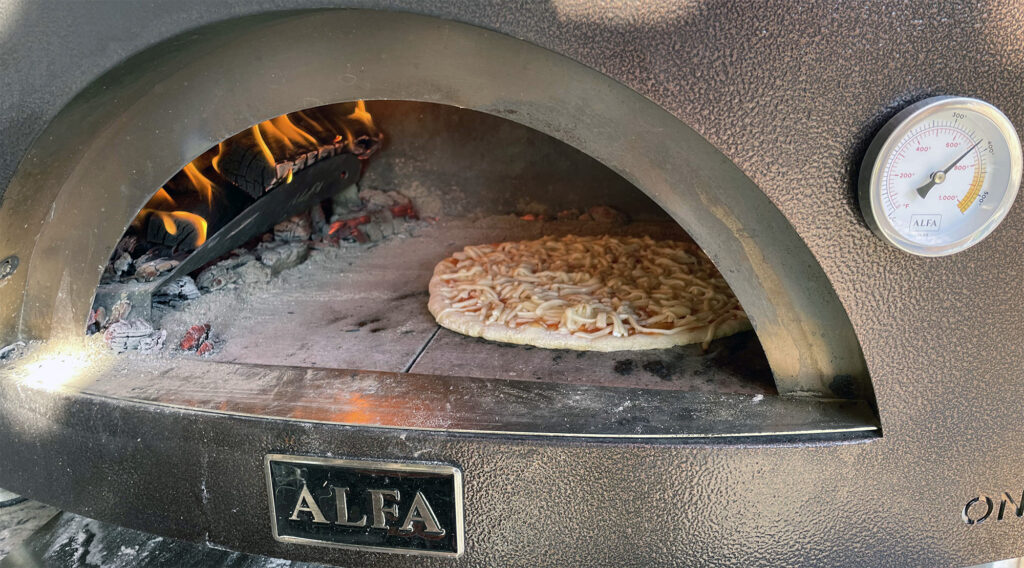 First Cook
The Alfa Nano is a simple oven with no unnecessary elements or fiddly processes. Start by laying your kindling in the wood basket and light it in the center of the oven. Once the flames have taken, add a couple of larger logs – no more than 2 inches thick – to the basket. After about ten minutes, when the fire is burning well, move the fire basket to the side and close the door to allow the oven to heat up.
The Nano has a pyrometer built into the oven, so you'll know when it's reached the perfect pizza cooking temperature. When it's ready, open the door and use the Alfa pizza peel to transfer your pizza directly onto the refractory bricks at the base of the oven. Keep an eye on your pizza and turn it mid-way through cooking to ensure an evenly baked crust.
Once your pizza is finished, remove it from the oven, slice, and enjoy!
If you're cooking more pizzas, you can add the second one immediately after the first. Keep an eye on the temperature gauge and add logs as and when you need to. When you've finished, allow the fire to burn out and the oven to cool down completely before cleaning.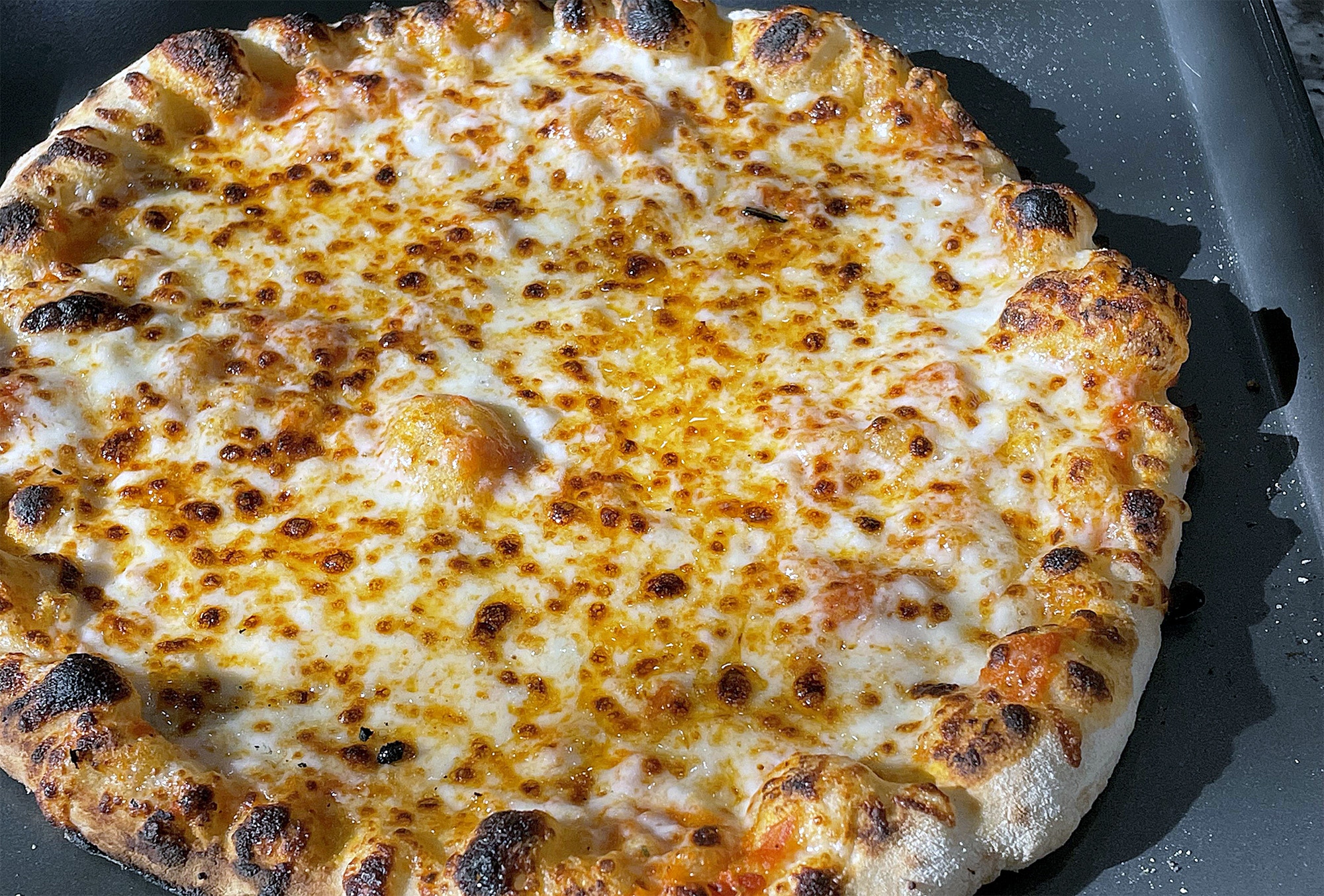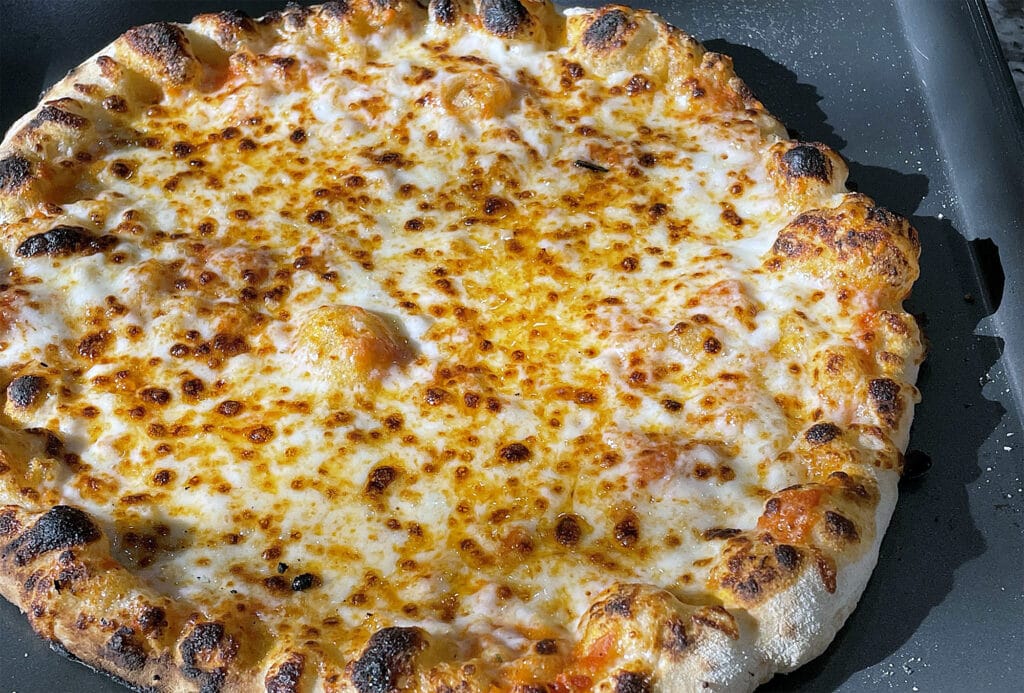 Extra tips
The Alfa Nano is a rapid oven, but it still takes a little time to heat up. Get that fire going before you start prepping for dinner.
Avoid overloading the oven by only laying your fire in the wood basket, not directly on the base of the oven. The Alfa Nano burns so efficiently that you won't need as much wood as you think.
Although the temperature gauge will inform you of the ambient temperature of the oven, you can also use a laser thermometer to double-check the heat of the bricks and all areas of the oven before cooking. Whenever the door is open, the ambient temperature will read lower than what the stone temperature is (the more important part).
Turn the pizza while cooking to ensure an evenly cooked flame-browned crust all the way around your pizza.
If you don't have a good pizza recipe check out our pizza oven recipes.
If you have any problems contact their customer service team, they have a reputation for excellence and can be reached through their website or many active social media channels.
What we think
The Alfa Nano is an excellent oven with simple usability, rapid heating and cooking times, and an elegant, innovative design. However, we can't pretend it's not expensive. At roughly $1400, this oven is outside of a lot of people's budget, especially when you consider you can get 16″ ovens and dual fuel ovens from other good manufacturers at lower prices. If dual fuel is even remotely interesting to you, I definitely recommend the Gozney Dome for just a few hundred dollars more. If gas is the main selling point, you may also want to look into the Ooni Koda 16 as an option that's half the cost and can fit a larger pizza (albeit way worse insulation).
But, with all of this said, the Alfa Nano is a top-quality wood-fired pizza oven. We love its look and how easy it is to use, and it makes exceptional pizza. So if you've got the budget and want to ensure that you're getting an industry-leading oven with top-quality design and construction, this might be the one for you.
OUR RATING OF THE Alfa NANO PIZZA OVEN
The Alfa Nano is an excellent oven with rapid heating and cooking times thanks to thick insulation and a well-crafted design. A choice between gas or wood offers flexibility in preference, but not both. The Alfa NANO is the most insulated and heavy duty 12" pizza oven we reviewed.
The good.
Quality craftsmanship and durable materials
Innovative design and heavy insulation means this oven heats up fast and retains heat brilliantly
Reaches a top temperature of 1000 °F in 30 minutes and can handle cooking multiple pizzas one after the other
Has a built-in Pyrometer (Pizza peel and all-weather cover also included)
The bad.
At roughly $1400, it's an expensive oven
At 110 lbs, it's technically portable but not in the sense of taking it on camping trips
It has no dual fuel capabilities - you must choose between the wood or gas-fired options
12" max pizza size is limited for an oven of this cost
4.3
Great high-end oven single-fuel oven